Ford: Look out for potholes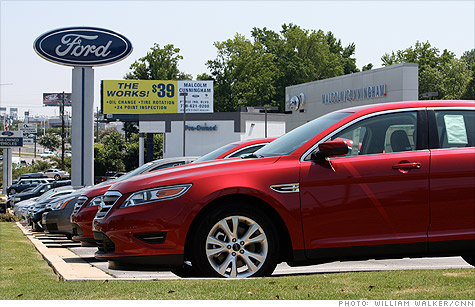 FORTUNE -- Alan Mulally and company are taking a well-deserved victory lap for their blowout first-quarter results. But looking behind the numbers, there are some potentially troublesome issues in North America that could impact earnings going forward.
Item: Ford (F, Fortune 500) garnered a lot of attaboys for actually boosting margins at a time when customers are once again reacting to higher gas prices by dialing down their vehicle preferences. That's no mean feat for the home of the profit-rich F-series pickup.
But the full impact of higher gasoline prices wasn't felt in the first quarter and may not be for a while. Mike Jackson, CEO of AutoNation (AN, Fortune 500), the U.S.'s largest car dealer, figures the tipping point won't come until gas hits $4.50 a gallon. Let's see how Ford's margins look then.
Item: Ford's U.S. market share sagged to 16% in the first quarter, its lowest in more than a year. This is despite well-received new products like the Explorer crossover and compact Focus. Ford even used some familiar industry levers to boost results.
The first is incentive spending. In March, Ford incentive expenditures exceeded the industry average by about $500 per car sold, according to Edmunds.com. The numbers look no better when compared to average transaction prices: Ford's spending as a percentage of its average price has run ahead of the rest of the industry.
The second lever is fleet sales. By some accounts, Ford sold one third of its vehicles to fleets in the first quarter. Commercial fleet sales are bad for profit margins, rental car fleet sales are worse. "Ford's goal should be to reduce sales to fleet to under 25%," says analyst Jesse Toprak of Truecar.com.
Item: Ford's well-earned reputation for quality is about to take a hit. The company acknowledged as much on Tuesday, saying it "is addressing some near-term issues."
That likely refers to MyFord Touch, its hands-free, voice-activated technology for communicating with the car. The system was the subject of a scathing review by Consumer Reports, which declared that first-time users "might find it impossible to comprehend," and may result in a lower initial quality ranking from J.D. Power and Associates.
The technology has received favorable comments from several reviewers but clearly needs time for users to accustom themselves to it.
Item: Ford has promised to fix its Lincoln brand, but for now it remains a headache. Lincoln sold only about 17,000 vehicles at retail in the first quarter, and the sales were spread across five different models, denting profits.
Says one industry insider: "Highly-fragmented nameplates with low volume tend to lead to aged inventory, higher incentives, and deterioration on the sales lot. They also hurt dealer profits due to higher floor plan expenses."
Ford faces other headwinds as well. Like all manufacturers, the automaker must cope with higher commodity costs -- in Ford's case, an additional $1.7 billion for the rest of the year. With only limited opportunities to offset the additional cost, it must either raise prices or risk margin erosion.
It has been said the auto business is simple: Design, build, and sell great cars and trucks. But within that single truth lie thousands and thousands of ingredients, variables, and decision points -- any combination of which can take the shine off a single quarter's results. It will be interesting to see how Ford fares over the next three months.