Treasury borrowing full steam ahead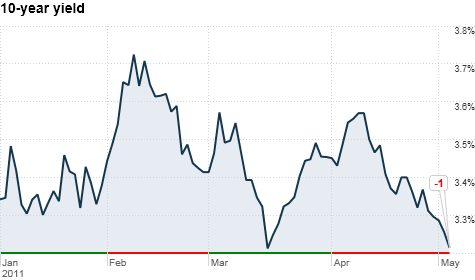 NEW YORK (CNNMoney) -- The Treasury Department said Wednesday it will go ahead with plans to auction $72 billion in new debt next week as the federal government approaches its debt ceiling.
In a statement, Treasury said the new funds -- essentially loans from the public to the government -- would give the department's debt managers "a significant amount of flexibility" to respond to different financing scenarios.
The debt ceiling is currently set at $14.294 trillion. As of May 3, the debt subject to that limit totaled $14.280 trillion -- just $14 billion shy of the cap. But the total fluctuates up or down daily.
After the government hits the ceiling, it's not allowed to borrow, and could eventually default on its debt.
On Monday, Treasury Secretary Tim Geithner said the pace of borrowing is on track to hit the current debt ceiling by May 16. That's the same date next week's auctions will settle.
As U.S. debt approaches its ceiling, Treasury will use a set of what it calls "extraordinary measures" to prevent a debt limit breach.
On Friday, Treasury will make its first move. The department will suspend issuance of special Treasury securities that help state and local governments fund, among other things, infrastructure improvements.
But that will all stop on Aug. 2, 2011, the date Treasury says Congress must raise the debt ceiling by in order to prevent a default on U.S. obligations and a catastrophic economic calamity.
And as the Aug. 2 deadline approaches, Treasury might be forced to alter its auction schedule, Mary Miller, assistant secretary for financial markets, said in a statement.
Still, Miller said Treasury "is confident that a timely increase will be enacted this year." Confidence aside, Congress still has to act, and that means politics will soon take center stage.
In exchange for lifting the borrowing limit, Republicans are hoping to extract a promise of spending cuts, or put a cap on future spending in place. Democrats will push back hard.
What yields are doing: Treasury prices rose in early trading Wednesday, as investors reacted to disappointing economic data that pointed to slower-than-expected employment and manufacturing growth.
The 30-year yield ticked down to 4.33%, the 2-year yield declined to 0.60%, and the 5-year yield slipped to 1.94%.
The 10-year note's yield was at 3.22%. Bond prices and yields move in opposite directions.