Stocks stumble on economic jitters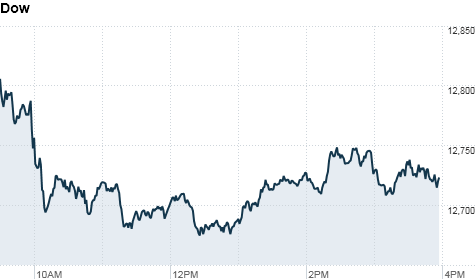 NEW YORK (CNNMoney) -- Stocks ended in the red Wednesday, as disappointing reports on jobs and the services sector weighed on investors.
The Dow Jones industrial average (INDU) fell 84 points, or 0.6%. Earlier in the session, the blue-chip index tumbled more than 130 points. The S&P 500 (SPX) shed 9 points, or 0.7%; and the Nasdaq (COMP) slid 13 points, or 0.5%.
Caterpillar (CAT, Fortune 500) and General Electric (GE, Fortune 500) were the biggest drags on the Dow. Shares of First Solar (FSLR) pressured both the Nasdaq and S&P 500, falling 8.5%.
Before the opening bell, payroll processor ADP said the private sector created 179,000 jobs last month -- down from 207,000 in the previous month. That was less than the 200,000 economists had been expecting.
"We hit a disappointment with ADP," said Doug Roberts, chief investment strategist for Channel Capital Research. "It wasn't earth shattering -- but at the same time, the average person doesn't see their job prospects improving much at all."
Later in the morning, the Institute for Supply Management also brought gloomy news, showing its reading on the services sector fell to an 8-month low in April.
Neither reports spur much confidence ahead of the government's widely anticipated report on April payrolls, due Friday.
"People might be slightly more nervous about the economic outlook," said Sireen Harajli, an associate economist at Credit Agricole in New York. "There's a shadow of uncertainty going forward."
Stocks have been trending generally higher since the start of the year, but investors fear the economy is still on shaky ground.
They're waiting to see just how hard businesses were hurt by rising energy prices over the last few months, and keeping a close eye on the looming debt ceiling facing Congress.
Meanwhile, Europe's debt problems were thrust back in the spotlight early Wednesday, after Portugal agreed to a $116 billion financial bailout, according to reports.
On Tuesday, U.S. stocks struggled for a second session as disappointing corporate earnings, and a steep drop in the price of oil, weighed on the broader market.
Economy: In addition to ADP's report on job creation, outplacement firm Challenger, Gray & Christmas issued a report showing employers announced fewer planned job cuts in April -- even as government sector layoffs mounted.
Wednesday's reports on the job market set the stage for Friday's widely anticipated government jobs report.
Economists surveyed by CNNMoney expect the unemployment rate to hold steady at 8.8%, while employers added 185,000 jobs in April. For the full year, economists expect 2.3 million new jobs -- just under 200,000 per month -- and an unemployment rate of 8.4% by year end.
Companies: Intel (INTC, Fortune 500) helped offset losses in the three major stock indexes, after the company announced it would manufacture microprocessor chips using new 3-D technology. Intel shares rose about 2% following the news.
Chinese social networking site Renren (RENN) debuted on the New York Stock Exchange at $14 a share. Often dubbed the "Facebook of China," Renren shares rose more than 28% to $18.01 a piece.
Shares of Varian Semiconductor (VSEA) surged more than 50%, on news that Applied Materials (AMAT, Fortune 500) will buy the chipmaker in a $5 billion cash deal.
Before the opening bell, CNNMoney parent Time Warner said a surge in advertising sales boosted revenue. But net income dropped. Shares of Time Warner (TWX, Fortune 500) fell 3.2%.
Time Warner's results come on the heels of better-than-expected earnings from CBS Corp. (CBS, Fortune 500) announced the day before. CBS shares rose 7.8% Wednesday.
After the close, News Corp (NWS, Fortune 500). shares fell 0.7%, when the company reported earnings and revenue that fell short of Wall Street estimates.
Prudential Financial (PRU, Fortune 500), Whole Foods (WFMI, Fortune 500), MetLife (MET, Fortune 500), and video game publisher Electronic Arts (ERTS, Fortune 500) all beat analysts' forecasts on income.
World markets: European stocks closed lower. Britain's FTSE 100 and the DAX in Germany each lost 1.8% and France's CAC 40 fell 1.5%.
Asian markets ended lower. The Shanghai Composite dropped 2.3%, and the Hang Seng in Hong Kong shed 1.4%. Japan's market was closed for a holiday.
Currencies and Commodities: The dollar lost ground against the euro, the British pound and the Japanese yen.
After losing more than 2% in the previous session, oil for June delivery fell an additional $1.81 or 1.6% to settle at $109.24 a barrel Wednesday.
Other commodities also continued to sell-off.
Gold futures for June delivery fell $25.10 to settle at $1,515.30 an ounce.
Silver futures for July delivery dropped $3.29 to $39.30, after sinking more than 7% in the previous session.
Bonds: Bond prices moved higher, pushing the yield on the 10-year Treasury note down to 3.22%.