Gasoline demand drops as price rises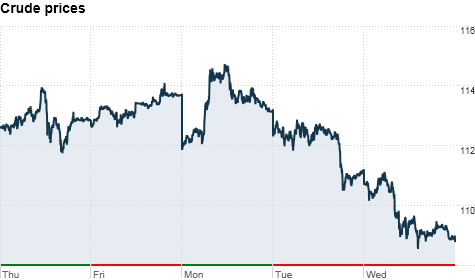 NEW YORK (CNNMoney) -- Demand for gasoline, which has seen a price spike at the pump has dropped sharply, a government report revealed Wednesday.
Gasoline demand fell to 8.943 million barrels per day from 9.148 million a week ago, according to the U.S. Energy Information Administration.
That suggests Americans are adjusting their consumption habits as prices shoot through the roof.
The national average price for a gallon of gasoline rose about two cents from the previous day to $3.98. In the past week, the averageprice of gasoline has climbed about ten cents.
Meanwhile, crude inventories grew by 3.4 million barrels last week, while oil demand fell by 1.256 million barrels per day, the EIA report said.
After losing more than 2% in the previous session, oil for June delivery fell an additional $1.81 or 1.6% to settle at $109.24 a barrel Wednesday.
The drop in demand comes as the Institute for Supply Management also brought gloomy news, showing its reading on the services sector fell to an 8-month low in April.
That suggests economic activity in the United States might be slowing, which would lower demand for oil products.