Are 3% yields the new 4%?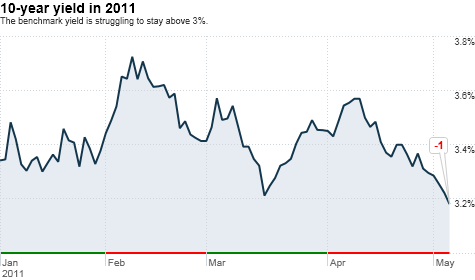 NEW YORK (CNNMoney) -- The yield on the benchmark 10-year note has had a rough 12 months. It started 2010 with a bang, opening at 3.85% in January and topping 4% in April.
A mere year later, the 10-year yield is struggling to stay above 3%. And experts say it's lucky to even be there.
"Bond buyers are not happy buyers right now," said Michael Cheah, bond fund manager at SunAmerica. "They're forced into it. Stocks and commodities are overweighted, and bonds are underweighted."
That division has widened sharply in the four months of 2011, Cheah said, as investors have split into two schools of thought: Buy commodities because massive inflation is coming, or snatch up bonds because inflation isn't a concern.
"The past few weeks' moves in the markets have been all about positioning one way or the other," Cheah said. "We haven't seen a flight to quality in bonds yet, though that might come if the stock market sells off into next week."
Meanwhile, the 10-year yield is slipping. It fell to 3.17% Thursday from 3.22%. But it would take a lot to break the 3% threshold, Cheah said, though that could turn out to be a positive move if it does happen.
"To break below 3%, we'd have to see strong evidence of a double dip," Cheah said. "But under 3% can be a good thing in and of itself."
The 10-year yield is tied to mortgage rates, so a dip could make housing more affordable. And hastening recovery in the housing market would greatly help the overall economy, Cheah noted.
Still, sub-3% yields don't offer investors much return on their money. But investors are prepared for that.
"Economics 101 would tell you the savers are being punished at that level," Cheah said. "But they'll do it, because it's not surprising to them. They're already punished by the Fed's easing measured. Overall, below 3% yields would create more benefit than harm."
What yields are doing: Also on Thursday, The 30-year yield ticked down to 4.28% from 4.33% the previous session. Bond prices and yields move in opposite directions.
The 2-year yield fell to 0.34%, and the 5-year yield slipped to 1.89%.