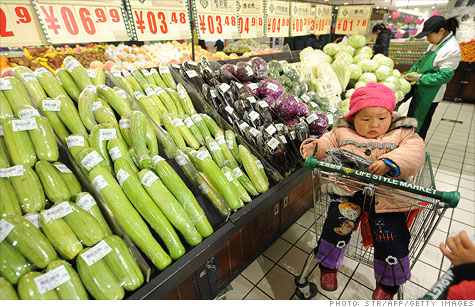 Rising food prices have been squeezing Chinese consumers, but economists think inflation may have reached its peak.
NEW YORK (CNNMoney) -- Inflation in China is still red hot, but it may have finally started its cooling process.
China's inflation rate fell slightly to 5.3% in April -- a slight slip from 5.4% growth in March, China's National Bureau of Statistics reported Wednesday.
It could mark the start of a gradual slowdown in China's inflation, as the government there continues its crackdown on inflation.
"April's data release suggests that inflationary pressures have started receding to an extent," Hongbin Qu, HSBC's chief China economist, said in a research note.
Economists were expecting a pullback in the pace of inflation, based primarily on a slower increase in food prices, which make up roughly a third of the index.
Since October, food prices in China have been rising at double-digit rates, squeezing the purchasing power of Chinese consumers.
In April, food prices rose 11.5% from a year ago. While that was still a staggering pace, it marked a slight slowdown from March, when food prices were up 11.7% year-over-year.
Food prices may have started tapering off. From March to April, vegetables alone -- which make up about a tenth of of the food Chinese households consume -- saw their prices fall 11.2%.
Cracking down on inflation
Industrialized nations including the United States have feared that if Chinese inflation barrels out of control, it could bring the world's second largest economy screeching to a halt, causing shock waves that ripple throughout the global economy.
"The U.S. economy, and to some extent other economies in the world, are hoping to get a boost from strong Chinese demand growth over the next few years," said Mark Williams, senior China economist with Capital Economics. "But they have been concerned that China is overheating and heading for a hard landing."
Taming China's rapidly rising prices are a top priority for the Chinese government over the next five years.
"It is the biggest problem we are going to tackle this year in China," Vice Premier Wang Qishan, told PBS' Charlie Rose on Monday night. "In order to do this, we have to use monetary policy, fiscal policy, and at the same time, economic restructuring."
In stark contrast to the United States -- where the Federal Reserve has said recently rising food and gas prices are merely temporary -- China's central bank started tightening monetary policy last year, to combat inflation.
The People's Bank of China has raised interest rates four times since October and hiked the amount of reserves it requires banks to hold on the sidelines.
The government has also raised minimum down payments for second-home purchases and introduced higher property taxes in two of the country's largest cities, in an attempt to prevent the country's rapidly growing real estate market from becoming a bubble.
--CNN's Helena Hong in Beijing contributed to this report