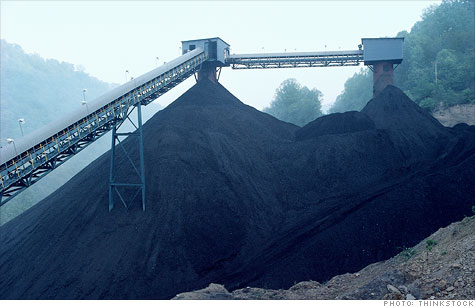 Scholastic says it was 'not vigilant enough' in its decision to partner with American Coal Foundation in the development of science curriculum.
NEW YORK (CNNMoney) -- Educational materails publisher Scholastic is scrapping a curriculum sponsored by the American Coal Foundation that was criticized for not explaining any of the negative effects of mining and burning coal.
The three-part lesson plan, available online and titled "the United States of Energy," included material on what energy sources provide the most electricity in each state and how that electricity is generated.
But despite Scholastic (SCHL) saying the material meets national education standards by discussing the "different advantages and disadvantages" of each energy source, no mention of the pros and cons appeared in the lesson plans.
"Lessons that are taught in schools should be objective," Josh Golin, an associate director at the Campaign for a Commercial-Free Childhood, said in an interview yesterday. "This is one-sided propaganda that's paid for by an industry."
Golin said Scholastic used its unique access to students to distribute the curriculum to 66,000 classrooms.
Golin and other public interest groups mounted an attack of the curriculum earlier this week, urging Scholastic to review or withdraw it. The campaign began attracting press Wednesday and garnered an editorial in the New York Times Thursday.
On Friday Scholastic said it would no longer distribute the material.
"We acknowledge that the mere fact of sponsorship may call into question the authenticity of the information, and therefore conclude that we were not vigilant enough as to the effect of sponsorship in this instance," the company said in a statement.
The American Coal Foundation did not return a call seeking comment.
Coal is available in vast quantities in the United States and is one of the cheapest ways to produce electricity.
But when burned it emits more air pollution and greenhouse gases than any of the nation's other major energy sources. Mining it often involves removing mountain tops, burying streams, and other practices that are detrimental to the land.