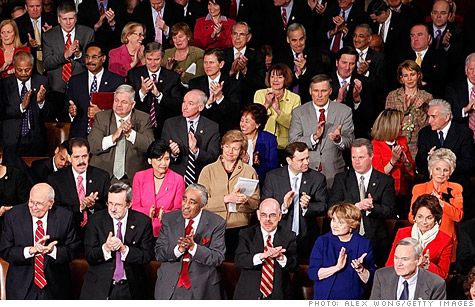 Congress at work.
NEW YORK (CNNMoney) -- Gather 'round! The House is going to vote on the debt ceiling!
Republican lawmakers are planning a vote next week on a "clean" debt ceiling bill that would raise the nation's legal borrowing limit by a couple trillion dollars, with no strings attached.
So here's the thing: It's a big joke.
Only in a topsy-turvy world would House Republicans actually vote for a bill like that. It would be instant political suicide -- this is the party of budget cutters and debt ceiling skeptics, after all.
So this isn't serious legislation. It's something else. And what is that? Politics!
Essentially, Republicans are forcing Democrats to go on the record in support of a clean debt ceiling bill. The math works out such a way that the bill has no chance to pass. Zip. Nada.
Republicans have a majority in the House, and not every Democrat favors a clean increase.
"Both parties are trying to use all the tools at their disposal to extract the maximum amount of concessions ... and that's just a fancy way of saying they are playing politics," said Craig Jennings, the director of federal fiscal policy at OMB Watch, a group that monitors federal spending.
The ploy underscores how wacky the debate over the debt ceiling has become.
The United States is the only country in the world to routinely torture itself with a debt ceiling -- the artificial limit on how much the Treasury can borrow to finance spending that's already been enacted by Congress.
Some Democrats are actually in favor of a clean bill to hike the ceiling. At the other end, some Republicans say they will only vote to raise the debt limit if its tied to a blockbuster deficit reduction plan.
Somewhere in the middle, a deal will have to be struck by Aug. 2, when the Treasury says it will run out of ways to avoid a default.
If that doesn't happen, the consequences will not be pretty.
"We're not going to experiment with [the debt ceiling]. We're the United States of America. You've got to be kidding," Treasury Secretary Tim Geithner said earlier this month.
Behind the scenes, some real work is being done on the issue, Jennings said. Vice President Joe Biden is leading bipartisan negotiations that appear to be making at least some progress.
"The productive stuff right now is happening behind closed doors," Jennings said. "What they do on the floor is for public consumption and elections. This is how campaign commercials are made."
For investors watching from the sidelines, this kind of gamesmanship is expected, but it does carry a price, said Jim Vogel, head of interest rate strategies at FTN Financial.
"There is always a price for excess statecraft," Vogel said. "And that builds over time." The real alarm bells won't be set off until much closed to the August deadline, he added.
As the deadline approaches, investors are likely to demand higher yields in exchange for holding U.S. debt.
Meanwhile, Republicans aren't the only party guilty of holding votes they know perfectly well will fail. Majority Leader Harry Reid is pushing for a vote on Paul Ryan's House budget plan.
The reason? To force Republican senators to vote on the bill's controversial changes to Medicare, of course.
--CNN's Kate Bolduan and Deirdre Walsh contributed to this report.