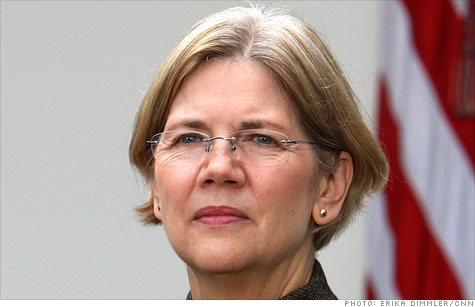 White House adviser Elizabeth Warren defended herself from Republican critics at a House hearing Tuesday.
WASHINGTON (CNNMoney) -- Republicans attacked Elizabeth Warren -- the Obama administration adviser working to set up a consumer financial protection bureau -- at a House hearing Tuesday, questioning her veracity in two separate instances.
In a hearing entitled "Who's Watching the Watchmen," Republicans on a House subcommittee used the opportunity to delve into Warren, her plans and her past testimony to Congress.
Patrick McHenry, a North Carolina Republican, declared the bureau a "super class of administrative elites," and then asked Warren if she'd accept a nomination -- if offered -- to be the director of the new consumer bureau.
Warren said it would be inappropriate to speculate on such a presidential move. Then he asked her who she had recommended the White House nominate. Then he interrupted her and said he understood she didn't want to answer that.
After that, McHenry accused her of hiding the truth the last time she went before Congress, when she said bureau staff had provided advice to state officials negotiating a settlement with mortgage servicers that improperly foreclosed on homeowners.
McHenry pointed to a memo that the bureau put together on mortgage foreclosures that included a note that it was to go to Attorney General Tom Miller, the Iowa attorney general leading the talks with bank mortgage servicers. The congressman accused Warren of being a more central role in the talks than what she told a congressional panel in March.
But Warren responded that she was simply providing information requested by Treasury Secretary Tim Geithner, saying he had asked her to put the packet together for the Iowa attorney general.
"This is our job, and we're trying to do our job -- to be helpful to other agencies," Warren said. "And to help those agencies to hold those who break the law accountable for these deeds."
At 2:15 p.m. ET, McHenry wanted to keep Warren around so other members of Congress could ask her questions. But Warren replied that she had only agreed to testify for an hour and she had an engagement at 2:30 p.m.
In a striking comment that reflected the tone of the hearing: McHenry said to her: "You're making this up." But, at 2:25, he told her she was dismissed.
Democrats apologized to Warren for McHenry's "rude" behavior.
"This hearing is all about impugning you, because people are afraid of you and your ability to communicate in very clear terms the threats to our consumers," said Rep. John Yarmuth, a Kentucky Democrat.
The Consumer Financial Protection Bureau was created as a part of last year's Dodd-Frank Act, which Congress passed to rewrite the financial rules of the road to prevent the next financial crisis.
The bureau's primary duty is to oversee financial products -- such as mortgages and credit cards -- and ensure they're clear, understandable and don't obscure hidden fees that consumers can't figure out.
But ever since Republicans took over the House, they've been focused on curbing and reversing powers of the consumer bureau, saying the new federal agency has too much power and lacks oversight.
Republicans have taken particular aim at Warren, the Harvard University professor who came up with the idea for the bureau and is a top candidate to run that new agency. They don't like that the White House appointed her to create the new bureau in an advisory position, meaning Warren is doing all the work of creating the bureau without having to weather a Senate confirmation battle.
And some speculate the White House could appoint Warren to run the bureau through the end of 2012, when the Senate is in recess next week. That move would be in response to a Senate Republican threat to block any other nominations until a director is in place.
The Tuesday hearing was Warren's second appearance in front of a Republican-controlled panel. Warren is attempting to play down the "overblown claims about the nature of the CFPB's power," according to her prepared testimony.
Earlier this month, a different House panel passed a bill to curb the bureau's powers, replacing the director with a five-member panel and making it easier for other regulators to overturn new consumer bureau rules. While the bill will easily pass the House, the Senate is not expected to even consider it.