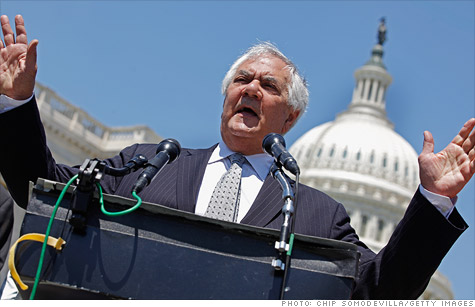 Rep. Barney Frank, a Massachusetts Democrat, says Republicans are acting like "thugs" in their effort to weaken Wall Street reform.
WASHINGTON (CNNMoney.com) -- A Senate Republican vow to block any nominee to lead the new Consumer Financial Protection Bureau gives President Obama no choice but to appoint a head of that agency during congressional recess, a top House Democrat said Wednesday.
Last week, 44 Senate Republicans said they would not approve any nominee to run the Consumer Financial Protection Bureau without major changes that would weaken the power of the bureau and the bureau's chief.
So Republicans, with their filibuster-proof 44 votes, give the president no choice but to sidestep the nomination process, said Rep. Barney Frank of Massachusetts.
"The Republicans are the ones who have announced that (the president) has to do a recess appointment, or else gut the agency. That's their choice," Frank said.
The ranking member of the House Financial Services Committee called the Republican move "extortion" and told Republicans to "stop acting like thugs."
Republicans say that the president has had 10 months to make a nomination.
They want to replace the consumer director with a panel and force the bureau to be funded by Congress instead of bank fees. They also want existing bank regulators to be able to overturn consumer rules if a financial firm's safety and soundness is threatened.
"The President is not being forced to do anything but work with Republicans to enact commonsense accountability measures, some of which his Administration and Congressman Frank originally proposed," said Sen. Richard Shelby of Alabama, who leads the effort to block the nomination for the bureau. "The president always talks about the need for bipartisanship. Here is his chance."
But the Republican changes go to the heart of the original debate about the creation of the consumer bureau. And consumer advocates say they're nonstarters.
Elizabeth Warren
Experts say the Republican threat makes it nearly a sure thing that Elizabeth Warren will get appointed to run the bureau for now.
The Harvard University professor and consumer advocate came up with the original idea for the Consumer Financial Protection Bureau, an independent agency that will regulate mortgages and credit cards.
Warren is currently working for the White House and Treasury to set up the bureau in time for its July 21 launch date.
If the president were to make a recess appointment, the earliest it would be is May 30. With a recess appointment, Obama could appoint whoever he wants to run the bureau through the end of 2012 without Senate confirmation.
A protracted Senate confirmation battle was one the main sticking points that prevented Obama from nominating Warren in the first place.
Besides that, the White House is running out of options. A number of other candidates, including former Treasury Department assistant secretary Michael Barr, have said they don't want the job.
"We are raising our odds to 70% that the administration nominates Elizabeth Warren as director of the Consumer Financial Protection Bureau," said Jaret Seiberg, a research analyst at MF Global Inc.'s Washington Research Group in a research note. "We raise our odds as time is running out to confirm a candidate and no other viable alternatives have emerged."
And Frank, in an interview with CNNMoney, said Warren is the best choice to lead the bureau -- although he stopped short of predicting she would get the nomination.
"She would be the best," Frank told CNNMoney's Poppy Harlow. "There would be other good people, but Elizabeth Warren is a very bright, very practical person."
However, recess appointments come with a cost, said Mark Calabria, a former aide to Shelby.
Indeed, Republican congressional staffers say there have been talks about possible procedural moves to prevent a recess appointment, such as threatening to filibuster other presidential nominees.
"You really ruffle a lot of feathers and run a big risk of not getting other nominations through in doing it that way," said Calabria, director of financial regulation studies at the Cato Institute.