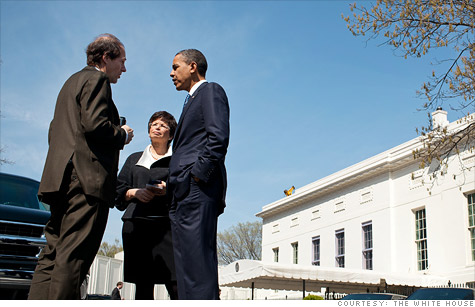 Cass Sunstein, a top White House budget official, says regulatory reforms could save billions of dollars over the long term.
NEW YORK (CNNMoney) -- The Obama administration said Thursday that milk will no longer be classified as an oil, part of an effort to overhaul federal regulations that don't make any sense.
The change means dairy farmers will no longer be subject to costly rules designed to prevent oil spills and is expected to save the industry $1.4 billion over the next decade, according to the Environmental Protection Agency.
The reclassification, made official last month, is one of several regulatory reforms stemming from a government-wide review of federal rules ordered by President Obama earlier this year.
The review was aimed at changing or eliminating rules that "that are out-of-date, unnecessary, excessively burdensome, or in conflict with other rules," according to a statement from the White House.
"The objective was to ensure that we look at all the regulations on the books and make sure they do what they're intended to do at the lowest cost to businesses," said Jacob Lew, director of the White House Office of Management and Budget.
The administration unveiled proposals from 30 federal agencies outlining regulatory changes that officials say will save businesses, state governments and individuals hundreds of millions of dollars. Over the long term, they say, the reforms could help save billions of dollars.
Those savings could help support the economy and create jobs, but officials stressed that the reforms will not undermine important health and safety protections.
Some of the reforms have been in the works for a while and will take effect immediately, while others are subject to a rule making process and may require Congressional approval.
Cass Sunstein, a top official at OMB, said it's too soon to say exactly how much money could be saved as a result of the proposed reforms. But he estimated that "upwards of a billion" dollars could be saved annually as a result of reforms that have been put in place recently.
'"We have to go through a process of analyzing the exact content of the rule and the savings that are associated with the exact content of the rule," he said.
Still, he pointed to a number of reforms that are expected to result in "real savings" over the near term.
In addition to its stance on milk, the EPA has proposed phasing out a rule requiring gas stations to have vapor recovery systems. The change is expected to save $67 million a year.
The Occupational Safety and Health Administration has eliminated "redundant reporting burdens on employers" that will save an estimated $40 million in annual costs, according to the White House.
OSHA is also expected to update hazard classification rules that will "harmonize" with those used by other nations. The change is expected to save businesses $585 million a year.
The Department of Transportation is considering changes to the rules regarding railroad safety that could save up to $400 million in the short term.
Among the changes that are in the early phase of development, the Departments of State and Commerce are pursuing reforms to make it easier for U.S. businesses to export goods.
In addition, the Department of Health and Human Services is reconsidering some burdensome paperwork requirements, and the Interior Department will review cumbersome rules under the Endangered Species Act.