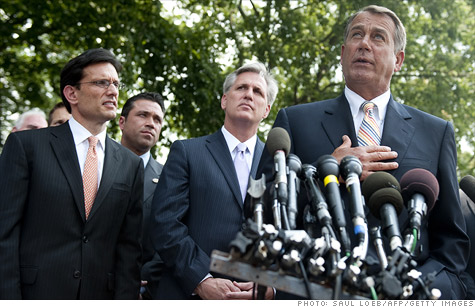 If spending cuts don't exceed the increase in the debt limit, it will cost the country jobs, Speaker John Boehner told reporters after a meeting with President Obama on Wednesday.
NEW YORK (CNNMoney) -- Congress should tie any increase in the debt ceiling to "significant" spending cuts.
That's what more than 150 economists urged in a letter released by House Speaker John Boehner.
Their reasoning: An increase in the debt limit without spending cuts "will harm private-sector job creation."
The basis for that statement, it seems, is more political than economic.
Any economist will agree that the country's record-high debt will hurt jobs and economic growth if Congress never does anything about it.
But that's different than saying job creation will be hurt if spending cuts aren't tied to an increase in the debt ceiling.
Two of the economists who signed the letter indicated in interviews that they're pushing for a spending cut deal now because they have no faith that Congress will get around to it otherwise.
And tying cuts to the debt ceiling would let Congress show businesses that it is taking seriously its mandate to be fiscally responsible, they said.
"The political reality is this is the chance to [send] a clear signal to the private sector," said Douglas Holtz-Eakin, a former Congressional Budget Office director who now runs a Republican think tank.
J. Gregg Whittaker, an associate professor of economics at William Jewell College, allowed that lawmakers could send the same positive message by raising the debt ceiling and then passing a spending cut package a month or two later.
But he's just not confident that would happen.
And both men think the two parties and the White House have ample time between now and Aug. 2 to work out a deal if everyone makes a good-faith effort.
For Holtz-Eakin, "everyone" seems especially to mean the White House. "The ball is in the administration's court," he said.
No matter that Republicans have shown no signs of compromise publicly -- insisting they will not accept any revenue increases. Another GOP condition: they will only agree to raise the debt ceiling if the spending cuts agreed to exceed the level of the increase.
And what if a deal isn't brokered by Aug. 2? Treasury Secretary Tim Geithner and others have said the effects on the economy could be calamitous because the Treasury Department won't be able to meet all the government's ongoing obligations that by law it is required to meet.
Whittaker and Holtz-Eakin acknowledge the debt ceiling will have to be raised eventually.
But they don't see Aug. 2 as the drop-dead deadline.
Holtz-Eakin believes if it had to the Treasury could employ various unannounced measures like selling assets to keep the country out of default, but noted the longer it takes to come to a deal the harder it will be.
"We know there will be problems when they're selling rights to the South Lawn of the White House," Holtz-Eakin said. (For the record, Treasury has said selling U.S. assets would harm taxpayers, undermine confidence in the United States and would not postpone reaching the debt limit "for a meaningful amount of time.")
More seriously, Holtz-Eakin suggested, there's the possibility of very short-term increases in the ceiling until a bigger deal can be struck.
No one denies U.S. debt is a serious and growing problem or that spending cuts will be needed.
But tying spending cuts to the debt ceiling increase may create more problems than it fixes.
"It's just ludicrous to me that the country [might not] pay its bankers in August," said Diane Swonk, chief economist at Mesirow Financial in Chicago.
She noted that when the country had a very short-lived default in 1979 -- due to a technical glitch among other things -- bond yields spiked 60 basis points and, according to those who studied the event, remained elevated thereafter. "To think this has no impact is ridiculous," she said.
Another critique of the GOP approach: Insisting on spending cuts while ruling out any revenue changes won't produce a comprehensive debt reduction plan.
Swonk also said that if the debt ceiling isn't raised on time, Treasury may have to withhold payments to government contractors -- and that could hurt the private sector and state economies.
And in the end, Swonk said, the debt ceiling won't be the last chance for lawmakers to deal with the debt. "I don't think Congress has much choice about doing the right thing, because the markets won't let them."