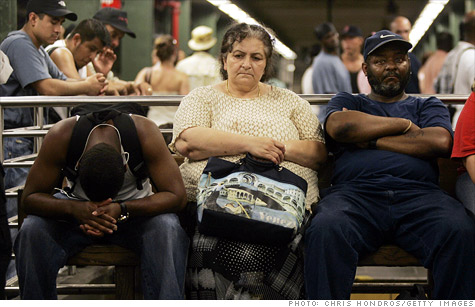 NEW YORK (CNNMoney) -- A dismal jobs report defied Wall Street's expectations Friday.

But considering the beating consumers have taken recently, why was anyone surprised?
The American consumer is now feeling the cost of $4 gas and higher food prices, seeing their wages rise very little and still being held back by declining home values, which recently fell to their lowest level in nine years.
"Remember, the consumer accounts for roughly 70% of the overall economy," said Kathy Bostjancic, director for macroeconomic analysis at The Conference Board. "If the consumer is showing reluctance, then that does not incentivize companies to build up or hire."
Prior to Friday, economists had expected a slightly weak jobs report for May, given what they believed would be temporary distortions because of supply-chain disruptions from Japan's earthquake, the lagging effect of higher energy prices and tornadoes in the South.
Otherwise, company balance sheets looked solid and recent stock market declines were relatively minor.
But did Wall Street underestimate the pain on Main Street?
Earlier this week, the Consumer Confidence Index -- a report compiled by the Conference Board -- fell to its lowest level since October, showing consumers are more apprehensive about the job market, their income and inflation.
"Right now, we're in a tough patch for the consumer," Bostjancic said. "We're not yet near a double dip, but we're in a frustratingly slow recovery."
Perhaps it's not that surprising then that May's job growth was weak, adding 54,000 jobs -- a measly number when you compare it to job gains that averaged above 200,000 in the prior three months.
When consumers aren't feeling confident about the economy, they're likely to reduce spending. Businesses begin to anticipate lower demand for their products, and become reluctant to hire -- or worse -- cut jobs.
In May this appeared to be true with a variety of consumer industries. Retail, for example, cut 8,500 jobs after adding a whopping 64,000 in April.
The leisure and hospitality industry -- which depends almost entirely on discretionary consumer spending -- cut 6,000 jobs, after averaging gains of 44,000 each of the prior three months.
Even the subcategory of food service -- which was expected to benefit from a recent McDonalds' hiring spree -- showed significantly slower job growth. The economy added 13,600 food service jobs in May, after averaging growth of nearly 32,000 each of the prior three months.
"After two years of an economic recovery, businesses are starting to figure out, there's very little room for top-line revenue," said John Silvia, chief economist for Wells Fargo.
"Consumer spending has been subpar this economic recovery," he added.