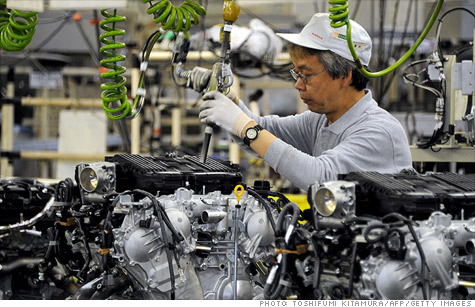 A factory worker assembles a Nissan engine at the Iwaki engine plant in Japan. The plant, which stopped operations for two months after the March 11 earthquake, didn't resume work until May.
NEW YORK (CNNMoney) -- The gap between U.S. exports and imports narrowed slightly in April, as Japan's earthquake weighed on the global auto supply chain, according to a government report.
The U.S. imported $43.7 billion more than it exported in April, down from a revised $46.8 billion trade deficit in March, the Commerce Department said Thursday.
Much of that narrowing could be due to temporary disruptions from Japan's March 11 earthquake and tsunami, which slowed the production of auto parts there, economists say.
"This isn't necessarily an exports story," said Jay Bryson, global economist with Wells Fargo. "This is a one-time import story."
Imports of automotive vehicles, parts and engines plunged by $2.8 billion, or nearly 12.9% in April, bringing the overall import component of the report down.
Overall, imports fell about 0.4% in April, to $219.2 billion. Meanwhile, exports rose 1.3% to $175.6 billion.
Because a narrower trade gap strengthens U.S. economic growth, economists usually see it as a welcome sign for the recovery. But in this case, the effect of slower auto production in Japan is likely to be merely temporary.
"It should help the growth numbers a bit," said Robert Kavcic, economist with BMO Capital Markets. "But it is temporary. The drop in imports could be reversed into June and July."
Meanwhile, economists were also looking closely for signs that surging oil prices could have driven imports substantially higher, as was the case in the March trade balance figures.
But in contrast to what happened in March, the report showed the value of U.S. oil imports actually fell in April. Facing oil prices that were roughly $10 a barrel higher, the U.S. cut back its imports by 42 million barrels during the month -- driving the overall imports figure lower.
"Could it be due to sticker shock felt by American consumers? Maybe," Bryson said. But as oil prices level out, he expects oil imports to rebound later in the summer.
Overall, economists surveyed by Briefing.com had expected the deficit to have reached $48.7 billion in April.