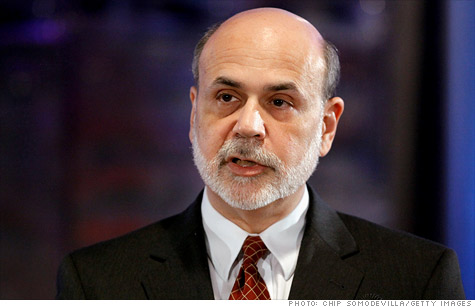 Fed Chairman Ben Bernanke
NEW YORK (CNNMoney) -- The Federal Reserve, long under attack by those who fear its policies are sowing the seeds of future inflation, could soon spell out the price increases it is aiming for.
Bloomberg reported Wednesday that discussions on an inflation target are underway at the Fed, citing unnamed sources within the central bank.
This should not be a big surprise. Recent comments by Fed members suggest policymakers are getting closer to the setting the kind of explicit inflation target used by many other central banks around the world. Fed Chairman Ben Bernanke is a long-time advocate of such a measure.
Inflation targets would shape Fed decisions on interest rates or the amount of money it pumps into the U.S. economy to try to spur growth.
The Fed is about to conclude its latest efforts to stimulate the economy, a policy known as quantitative easing or QE2 for short. Under the program the Fed is purchasing $600 billion of long-term Treasuries.
Some critics of inflation targets have worried that they could tie the hands of the Fed, forcing it to raise interest rates at the first whiff of inflation, even if the economy is still struggling.
On Wednesday, the Labor Department reported that consumer prices are up 3.6% compared to a year ago, the highest inflation reading in nearly three years. But those prices come amid signs of an economic slowdown.
Fed officials, including Bernanke, have repeatedly said the current price spikes have been driven by "transitory" increases in the prices of commodities such as oil and food.
Bond yields, which normally would rise on heightened inflation fears as investors sell bonds, fell Wednesday. (Rates and prices move in opposite directions.)
But uncertainty about the negotiations to avoid a default of Greek sovereign debt coupled with the talk of the Fed eyeing an inflation target made U.S. Treasuries more attractive for investors, driving down the yield on the 10 Year to below 3%.
In addition, various Fed District Bank presidents are also stepping up calls for a specific inflation target, ranging from those who traditionally are less worried about inflation, such as Atlanta Fed President James Lockhart, to so-called inflation hawks, like Philadelphia Fed President Charles Plosser.
"The language we use to explain our forecasts of inflation can, at times like these, get in the way of effectively communicating our ultimate inflation objective," said Lockhart in a speech last week. "One way to deal with this tension ...is to set an explicit numerical objective for inflation."
Various Fed experts say that the debate over whether to implement such targets has largely ended within the Fed.
"I don't know anybody who opposes it anymore," said Laurence Meyer, a former Fed governor and advocate of inflation targets. But he doesn't expect a policy change in the near term.
"I think it may be preferable to wait until the dust clears," he said.
Meyer, now senior managing director and co-founder of Macroeconomic Advisers, said one thing that might spur the central bank to implement the policy sooner rather than later would be if the Fed decided that the economy required a third round of bond purchases.
"Because QE3 will likely increase concerns about inflation, a good way to avoid that is at the same time announce an explicit inflation objective," he said.
Frederic Mishkin, another former Fed governor who advocates inflation targets, said the Fed would not find its hands tied by such a target. He argued it could actually give the policymakers more freedom to act by reassuring the markets.
"You want to prevent inflation scares, [the belief] that an expansionary policy means you're not going to be serious about controlling inflation in the future," said Mishkin, who is again teaching at Columbia University. "In that context, having an explicit inflation goal is extremely important."