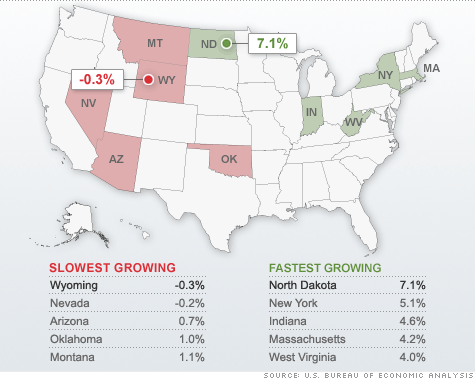 Click the map to see how all 50 states fared in 2010.
NEW YORK (CNNMoney) -- The American economy grew at a snail's pace of 2.9% last year, but some surprising states did better (and worse) than the overall economy.
A recent report from the Commerce Department paints a new picture of how economic growth looked across all 50 states last year.
Interestingly, both the fastest and slowest growing states were in the same neck of the woods.
North Dakota wins the bragging rights for growing the most last year, up 7.1% from in 2009. Just a stone's throw away, Wyoming actually slumped, leading the nation's slowest states.
But oil drilling was the key driver behind both North Dakota's success and Wyoming's slump. Why?
Historically, North Dakota's mining sector -- which includes oil -- was quite small compared to its overall economy. That has started to change recently due to new technology that makes it possible to tap billions of barrels of oil in a remote area of the state known as Bakken.
U.S. oil demand was relatively flat last year -- but that didn't matter for North Dakota. Mining surged 59% in the state, mainly because businesses there were working to build up the infrastructure to support this still young industry in Bakken.
"North Dakota has a lot of untapped shale oil, and developing that field may have attracted a lot of investment and a lot of employment into the state," said Luke Popovich, a spokesman for the National Mining Association.
But in Wyoming the case was much different. Mining was already a well established part of the economy, accounting for roughly a third of the entire state's gross domestic product. When U.S. energy demand and oil prices barely picked up in 2010, Wyoming's GDP was hurt the most.
"When the economy is just flat or just limping along, you can expect a state like Wyoming to really take it hard," Popovich said.
That said, he expects both North Dakota and Wyoming to grow significantly thanks to higher energy prices so far in 2011. Granted, both states are among the country's smallest in terms of GDP, so they can be more easily influenced by one sector than many of the larger states.
Among the other 48 states, one of the other large themes affecting growth included the continued housing slump - which was most pronounced in Nevada and Arizona.
Meanwhile, some states -- including Indiana, Massachusetts and Oregon -- enjoyed a manufacturing comeback for autos, high-tech equipment and machinery.
But states like Delaware, which rely more on manufacturing of so-called soft goods like plastic, struggled due to weak consumer demand and tough competition from producers overseas.