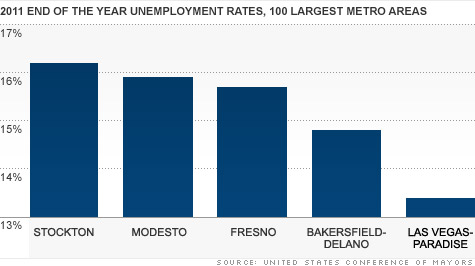 WASHINGTON (CNNMoney) -- Seventy-five metro areas will struggle with double-digit unemployment through the end of the year, according to a U.S. Conference of Mayors report released Monday.
The report also suggests that more than half of all the nation's cities will eventually pick up jobs and return to levels of employment before the 2007-09 recession -- but not for three more years.
In fact, unemployment rates will stay above 10% in 69 metro areas through the end of 2012, according to the report by IHS Global Insights.
Six of the hardest hit areas are in California: Stockton, Modesto, Fresno, Bakersfield, Riverside and Sacramento.
Florida is next on the list with five struggling cities: Fort Myers, Lakeland, Miami, Melbourne and Tampa-St. Petersburg.
Even worse, the report projects that five metro areas in the Rust Belt won't recover until the end of the decade, including: Detroit and Cleveland, Dayton, Toledo and Youngstown in Ohio.
The report projects that the national unemployment rate will fall to 8.6% by the end of 2011. However, the rate won't drop below 8% for at least another two years.
The forecast that the economies in California, Florida and Ohio will continue to struggle through 2012 is significant because those states play important roles in presidential election politics.
The report promises that jobs and economic growth will remain a top campaign issue next year.
The dour assessment prompted the National Conference of Mayors to consider an unusual call for national leaders to get out of pricey wars abroad and refocus those dollars on homegrown jobs projects.
"It's time to bring our investments back home," Los Angeles Mayor Antonio Villaraigosa said in a statement. "We can't be building roads and bridges in Baghdad and Kandahar and not Baltimore and Kansas City."