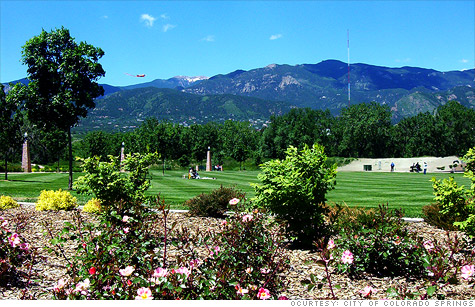 A sales tax revival in Colorado Springs means the city can take care of its parks again.
NEW YORK (CNNMoney) -- The streetlights are on. The parks are being watered and weeded. The buses are running on Saturdays.
What a difference a year makes in Colorado Springs.
Suffering from a steep decline in sales tax revenue, its main funding course, Colorado Springs had to take some drastic and unpopular measures in 2010. It slashed more than $26 million in spending, or 11% of its budget.
Gone was Saturday bus service that many lower-income residents depended on to get to work or run errands. Gone was regular maintenance of the city's parks, their pride and joy. And gone were one-third of the streetlights, turned off to save money.
That wasn't it. Park restrooms were shut down. The police helicopter was sold. A local lake and three pools were closed to swimmers. The police and fire departments did not recruit for vacant positions. Nearly 200 city positions were eliminated.
It would have been worse had local residents and organizations not stepped up. Neighbors started collecting the trash in parks because the city couldn't afford it. And Colorado Springs formed partnerships with local churches to operate or fund two community centers.
The change was very noticeable and very troubling, said Dave Munger, president of the Council of Neighbors and Organizations.
"Colorado Springs residents are very proud of their city," he said. "To have the streetlights and parks not being kept as well as they should be was disconcerting."
Colorado Springs had a swifter fall than many other municipalities nationwide because 53% of its funding comes from sales tax revenues, which plummeted as people stopped shopping during the Great Recession. And the city made more draconian cuts than many of its peers.
Many cities are more reliant on property taxes, which were slower to collapse. These locales are only now seeing the effects of the housing market implosion.
However, just as Colorado Springs' leaders were imposing big budget cuts, the economy started to turn around. Residents are spending more again, fueling a steady climb in tax revenue.
Sales tax revenue has increased steadily since Nov. 2009 and is up 3.25% year-to-date compared with the same period in 2010. It is still running below pre-recession levels though.
But the recent uptick in sales tax revenue, along with the savings from trimming the city's payroll and other cost-containment measures, have allowed officials to restore many of the services they had eliminated only 12 months before.
The buses are rolling again on Saturdays, and the streets are now illuminated at night. The police and fire academies are training new recruits. The parks are being re-seeded and will be watered once again.
The budget crisis allowed Colorado Springs to get creative in the way it provides services too.
For instance, it formed a partnership with Greener Corners, a New Jersey-based environmental firm, to provide recycling in the city's parks and downtown areas. The city won't pay extra to haul away the recycling, but will get 15% of the revenue from the advertising on the recycling bins.
Colorado Springs, like other cities, is still climbing its way out of the recession and continues to struggle to find ways to fund much-needed infrastructure projects and restore other services.
But it is now able to shift its focus from damage control to economic revival, said Steve Cox, chief of staff to Mayor Steve Bach. It hopes to boost job growth now that it is maintaining the area better.
"The parks are a huge component of selling our city to new employers," Cox said.
Still, Colorado Springs needs to concentrate on job creation if it wants to fully climb out of the recession hole, said Tom Zwirlein, director of the Southern Colorado Economic Forum, based in Colorado Springs.
"We've stabilized," he said. "If we can create more jobs and higher-paying jobs, it will lead to an increase in tax collections for the city. This will allow them to restore more city services."