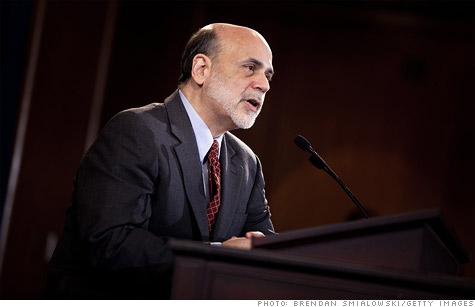 NEW YORK (CNNMoney) -- The Federal Reserve chipped away at its forecasts for economic growth again Wednesday.
In an announcement following its two-day policy meeting, the Fed said it estimates that the nation's gross domestic product will rise between 2.7% to 2.9% in 2011, down from its April estimate of an increase of 3.1% to 3.3%.
It marks the second time this year that the central bank has cut its growth projections for the U.S. economy in the aftermath of Japan's earthquake and rising energy prices.
Even though the Fed still says those effects are likely to be only temporary, they were apparently enough to bring down economic growth and raise inflation expectations for the next two years.
"Part of the slowdown is temporary and part of it may be longer-lasting," Fed chairman Ben Bernanke said in a press conference Wednesday.
The Fed was widely expected to cut its growth projections. Facing weaker reports on jobs and housing last month, most independent economists have slashed their forecasts too. By comparison, the Fed's new predictions are actually still much more optimistic than the mainstream views.
The U.S. economy grew 1.8% in the first quarter, and is widely expected to grow 1.7% in the second quarter. In order for the Fed's forecasts to be true, growth would have to pick up more than 3% in both the third and fourth quarter.
"That is a number that will be very hard to reach in the current economic climate," said Guy LeBas, chief fixed income strategist at Janney Montgomery Scott. "By simple math, I think the Fed is overly optimistic on second half performance."
The Fed narrowed its expected inflation rate to a range between 2.3% and 2.5%, from its prior forecast of inflation at 2.1% to 2.8%.
It is also predicting that core inflation, which excludes food and energy prices, will rise between 1.5% and 1.8%. That's up from its earlier forecast of an increase between 1.3% and 1.6%.
The outlook for the job market is slightly more pessimistic too.
The Fed estimates the economy will wrap up the year with an unemployment rate between 8.6% and 8.9%, slightly lower than the current unemployment rate of 9% in January, but higher than prior predictions.