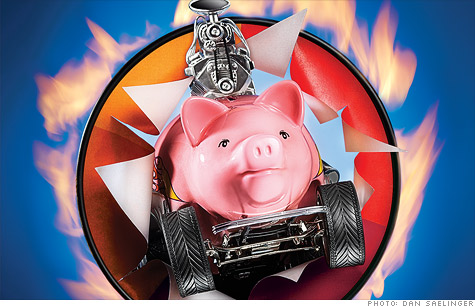 (Money magazine) -- The best approach to setting up a moderate-risk portfolio depends on the amount of money you have saved. If your savings are modest, you may want to go the "faster" or "cheaper" route suggested below. The "better" route makes more sense if you have at least $500,000 to invest.
Faster
Buy one asset-allocation fund. Chicago financial planner Mary Deshong-Kinkelaar recommends Vanguard LifeStrategy Moderate Growth (VSMGX) (three-year annualized return: 2.3%), which gives you an instant blend of bonds (40% of assets) and U.S. and foreign stocks (60%).
Or choose a target-date fund pegged to your retirement year, which automatically adjusts your asset mix over time
Time it takes: Less than half an hour.
How much it costs: Vanguard's LifeStrategy Moderate Growth's expense ratio is 0.19%.
Cheaper
Choose Schwab ETFs, which boast rock-bottom expenses and can be traded free online.
A moderate middle-aged investor might allocate assets like this:
Time it takes: About an hour to set up the portfolio.
How much it costs: Expense ratios range from 0.08% (for the Schwab Large-Cap ETF) to 0.14% (for Schwab TIPs).
Better
Go pro. A good financial planner uses strategies that could save on taxes or give you a shot at bigger returns, and he may suggest investments you haven't thought of (or don't have access to).
For example, Louis Stanasolovich of Legend Financial Advisors in Pittsburgh puts many clients into alternative assets such as commodities or managed futures -- which help reduce risk because they do not move in lockstep with the stock market -- often via institutional funds they can't get on their own.
Time it takes: Several hours a year.
How much it costs: About 1% of assets per year.