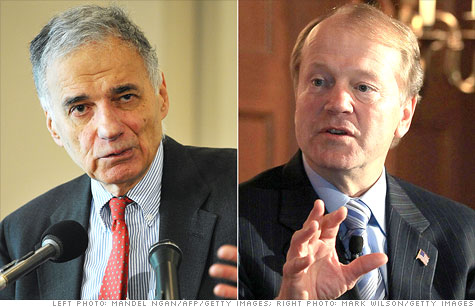 Consumer advocate (and Cisco shareholder) Ralph Nader is not pleased with Cisco's stock performance and has urged Cisco CEO John Chambers to boost its dividend.
NEW YORK (CNNMoney) -- The painful slide in the stock price of Cisco Systems is now big enough news to even rile up consumer advocate and perennial presidential candidate Ralph Nader.
Cisco (CSCO, Fortune 500) is the worst performing Dow component this year. Shares have plunged nearly 25% -- and that's on top of a more than 15% decline in 2010. Cisco has tried to mollify some investors by finally initiating a dividend this year. But that's not enough for Nader, it seems.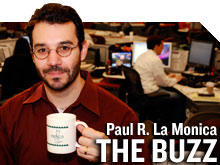 According to a story in The Wall Street Journal on Friday, Nader -- a Cisco shareholder -- sent embattled Cisco CEO John Chambers a letter asking Cisco to pay a one-time special dividend and raise its regular dividend.
I think Nader is right.
To be fair, Cisco deserves credit for at long last bowing to shareholder pressure about a dividend.
Cisco has had a pristine balance sheet for years and could clearly afford to issue a quarterly payout to investors and still have plenty of cash left for stock buybacks, acquisitions and investments in research and development.
And yet it can still afford to pay more. Cisco has about 5.5 billion shares outstanding. Its dividend is 24 cents annually per share. That works out to just $1.3 billion in payments. Cisco has nearly $43.4 billion in cash.
Cisco could double its dividend easily (Nader is reportedly asking for 50 cents) and not break the bank. And by doing so, the dividend yield would be about 3% -- approximately where the yield on the 10 Year Treasury is.
While a fatter dividend that wouldn't solve many of Cisco's fundamental problems -- such as a muddled focus after arguably too many acquisitions and tough competition from nimbler rivals -- it would at least reward Cisco shareholders that are patiently waiting for Chambers to right the ship.
I've been advocating for years (since 2002!) for big tech companies with a lot of cash to pay dividends. Some blue-chip techs have listened. Applied Materials (AMAT, Fortune 500), Microsoft (MSFT, Fortune 500) and Qualcomm (QCOM, Fortune 500) now all have dividends with impressive yields. Oracle (ORCL, Fortune 500) began paying a dividend in 2009.
So what about Google (GOOG, Fortune 500) and Apple (AAPL, Fortune 500)? They are the two remaining anti-dividend stalwarts. On the one hand, you can understand why Google and Apple wouldn't want to associate them with the likes of Cisco and Microsoft, two companies whose fortunes have dimmed.
But dividends do not have to be synonymous with obsolesce.
IBM (IBM, Fortune 500) pays a dividend that yields 1.8%, and Big Blue's stock is near an all-time high. Oracle, despite a dip Friday morning following its earnings report, is still humming along. Shares are up 40% over the past year.
And the mighty Q, Qualcomm, hasn't been punished for paying a dividend. Shares are up 10% year-to-date and nearly 60% in the past 12 months. It's just patently false to suggest that a tech leader shouldn't pay a dividend because it's a signal that it has nothing better to do with its cash.
Apple and Google have giant piles of cash just sitting around earning piddling amounts because short-term interest rates are near zero. Why not spread the wealth?
Apple has nearly $65.8 billion in cash and securities on its balance sheet. If it paid a $5 per share annual dividend, that would yield about 1.5%. And it would cost Apple, which has about 925 million shares outstanding, only $4.6 billion a year.
To put that in perspective, Apple generated about $16 billion in operating cash flow in the first six months of this fiscal year. Come on, Steve and Tim. Pay up.
Ditto for you, Larry, Sergey and Eric. Google has $36.7 billion in cash. If it wanted to initiate an annual dividend that yielded 1.5%, it would have to pay out a dividend of approximately $7 a share.
Google has 322 million shares outstanding. So a dividend would cost $2.3 billion or so. Google generated that much in free cash flow in just the first quarter.
"Don't be evil" is Google's famous mantra. Failure to pay a dividend may not qualify as evil, but hoarding cash isn't exactly shareholder-friendly. Take note, before Ralph Nader comes after you too.
Reader comment of the week .. and The Dude abides! I often complain over on Twitter when the broader market isn't doing much. That's because I'm a journalist hungry for exciting news. When stocks are as flat as the Kansas landscape, it's hard to stay awake. However, one reader gently reminded me that boring isn't all that bad.
"I don't know about you but I'll take a little tranquility in the markets right now after the past few weeks," wrote @ChaseBennett.
Good point. Although I still admit that on big up or down days, it makes my job more fun. Speaking of fun, I decided this morning that I was long overdue for another silly pop culture quiz. So I asked readers to identify the source of this quote: "Sometimes, there's a man. Sometimes, there's a man."
The movie is the cult classic "The Big Lebowski." And Zach Silverstein, aka @zsilver92, is the winner. Congrats. I'll drink a White Russian in your honor tonight.
The opinions expressed in this commentary are solely those of Paul R. La Monica. Other than Time Warner, the parent of CNNMoney, and Abbott Laboratories, La Monica does not own positions in any individual stocks.