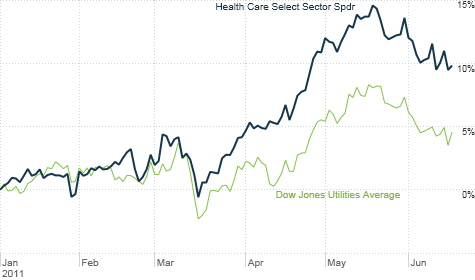 The broader market has pulled back on economic fears about the United States and Europe. But drug stocks and utilities have held up relatively well.
NEW YORK (CNNMoney) -- With the overall market riding a six-week losing streak that looks like it will extend to seven, it's tempting to say that the bull market is over. But there's always a bull market somewhere.
As investors grow increasingly nervous about the slowing economy in the United States and the reemergence of debt fears in Greece and the rest of Europe, it looks like a so-called "flight to quality" may be finally taking hold.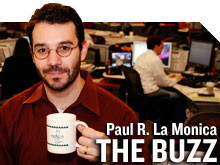 Consider that over the past few weeks, investors have once again flocked back to U.S. Treasuries. It's amazing to think that U.S. bonds can still be considered attractive.
At the end of the month, the Federal Reserve is set to end the $600 billion bond buying bonanza (yay alliteration!) known as QE2. QE3 is no guarantee yet. And the debt ceiling limit is rapidly approaching as well.
But the 10 Year yield is back below 3% as investors buy bonds. (Rates and prices move in opposite directions.) The 2 Year Treasury is now yielding a piddling 0.24% -- a record low.
Guy LeBas, chief fixed income strategist with Janney Montgomery Scott in Philadelphia, said that you have put the fiscal challenges in the U.S. in context. Yes, the U.S. is in trouble. But Treasuries are still a "safe haven" when you look at the alternatives.
"Let me ask you this. Would you rather own a U.S. Treasury or a Hellenic Republic Greek bond?" he said. "While the U.S has problems, they are much smaller than those facing Europe."
That line of reasoning is probably why the dollar has strengthened against the euro as of late. Even though Uncle Sam's economy is stinky, it's even stinkier across the pond.
On the stock side of the coin, so-called defensive companies like consumer staples firms, health care and utilities have held up much better than the broader market.
The S&P 500 (SPX) is down 7% since the market began to slump in late April. But the Health Care Select SPDR ETF (XLV) is off just 1%. Some prominent health care stocks, including Johnson & Johnson (JNJ, Fortune 500), biotech leader Amgen (AMGN, Fortune 500) and pharma giant Eli Lilly (LLY, Fortune 500), are actually up in the past seven weeks.
The Dow Jones Utilities Average (DJU) is also down just 1% in the midst of the market malaise. The fact that health care and utilities have held their ground shouldn't be that big of a surprise.
With bond rates and yields on saving accounts so low, any investor craving a steady dose of income can do much better with a drug stock or electric company.
"Money market balances remain relatively high. But there are still great dividends in utilities and health care stocks," said Dan Greenshields, president of Seattle-based ShareBuilder, the investing subsidiary of online bank ING Direct.
Merck (MRK, Fortune 500), for example, pays a dividend that yields 4.3%. And Duke Energy (DUK, Fortune 500), which will become the nation's largest utility after its merger with Progress Energy (PGN, Fortune 500), yields 5.3%.
While all 30 Dow stocks fell on Wednesday, McDonald's (MCD, Fortune 500) was the smallest loser, down just 0.3%. And rivals Wendy's (WEN) and Yum Brands (YUM, Fortune 500) both rose as the market tanked. Ditto for McDonald's spin-off Chipotle Mexican Grill (CMG).
It makes sense if you believe that fast food chains may be considered less economically sensitive since they are a relatively cheap (if not always healthy) way to eat out.
But investors may not have to focus solely on less cyclical companies. There are plenty of large firms that are generating strong profits and trade at attractive valuations.
On days like Wednesday, when the market slides, it is often a great time to buy more of those types of firms, said Eric Schoenstein, co-manager of the Jensen Portfolio (JENSX) in Lake Oswego, Ore. For example, he said his firm recently bought a stake in sporting goods and apparel giant Nike (NKE, Fortune 500).
And some of his fund's top holdings are in riskier areas like tech and finance, such as software developer Adobe (ADBE) and money manager T. Rowe Price (TROW).
"Economic growth in the U.S. and Europe may be anemic," he said. "But there are companies out there still reporting growing sales. That is a good sign."
The opinions expressed in this commentary are solely those of Paul R. La Monica. Other than Time Warner, the parent of CNNMoney, and Abbott Laboratories, La Monica does not own positions in any individual stocks.