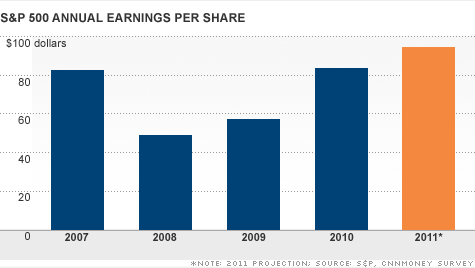 Experts say earnings are on track to rise 13% this year, according to an exclusive CNNMoney survey. Click chart for more survey results.
NEW YORK (CNNMoney) -- Hooray for earnings! The economy may be slowing, but don't expect too much of a hiccup in the upcoming earnings season.
Experts are optimistic that Corporate America's balance sheets will continue to improve, and say earnings for S&P 500 companies are on track to rise 13% this year, according to an exclusive CNNMoney survey.
Of course that's nowhere near the 47% earnings growth companies booked in 2010, but that's to be expected since earnings were lapping the recession-dark quarters of 2009 last year.
Plus, when it comes to earnings and their impact on a company's stock, it's all about how they fare against the market's expectations. So while year-over-year growth may slow, profits are expected to largely be in-line with or ahead of forecasts.
"We continue to look for earnings and revenues to exceed expectations," said Ryan Detrick, senior technical strategist at Schaeffer's Investment Research. "Will they slow some the second half of the year? Maybe. But it is all about expectations, and we think analysts are still too bleak as to how strong earnings will come in."
Though the majority of companies don't begin reporting results until the second week of July, a handful of firms that operate on a slightly adjusted calendar have already offered up a glimpse into what may come.
Last week, FedEx (FDX, Fortune 500) delivered earnings and sales that topped analysts' estimates for its fiscal quarter ended in May, and issued a healthy outlook for the next quarter and full year.
"So far, so good," said Donald Selkin, chief market strategist at National Securities. "There's somewhat of a disconnect between the economy and Corporate America. Companies aren't hiring, and there's still not much pressure to do so. Savings from that have helped profit margins."
Results from used car dealership CarMax (KMX, Fortune 500), supermarket chain Kroger (KR, Fortune 500), homebuilder Lennar (LEN) and retailer Bed Bath & Beyond (BBBY, Fortune 500) also beat expectations.
While Oracle's (ORCL, Fortune 500) earnings and sales figures also exceeded forecasts, investors were disappointed by the software giant's hardware sales.
At nearly 9%, profit margins are the fattest since 2007, according to Standard and Poor's data.
Those will inevitably begin to contract, said Tyler Vernon, chief investment officer at Biltmore Capital, but revenues will strengthen so margins will ultimately remain at a healthy level.
But it's not all sunshine and roses. There will be some weak spots.
In particular, companies that rely on commodities will be under pressure since prices for oil, metals, and agricultural products remain strong.
"Food-based companies and apparel retailers have been commenting that the high price of commodities are cutting into margins, and we'll probably hear more comments along those lines in the second quarter reports," said Peter Tuz, president at Chase Investment Counsel.
But even so, investors will likely look at those soaring commodity prices and subsequent economic weakness as short-term strains, and be willing to overlook the shortfalls, said Marc Pado, chief investment strategist at Cantor Fitzgerald.
Except for energy companies. With oil prices above $100 a barrel for the bulk of the quarter, companies like Exxon Mobil (XOM, Fortune 500) and Chevron (CVX, Fortune 500) will likely enjoy a nice boost to their bottom lines.