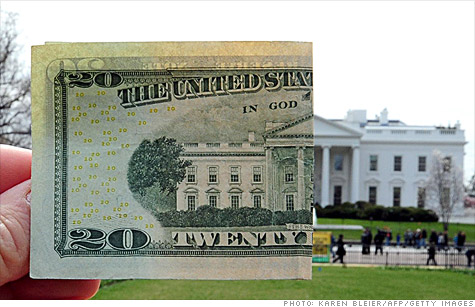 NEW YORK (CNNMoney) -- One out of every three White House employees makes at least $100,000 a year, according to data released by the White House on Friday.
Top earners pull down a salary of $172,200 a year, while three employees have a salary of $0. Most staffers fall somewhere in the middle.
The average salary is $81,765 a year, while the median employee salary is $70,000. The lowest full time salary is $41,000 a year.
The list is a little top heavy, with 21 sharing the title of top earner. But the names at the top are among the most recognizable the White House has to offer.
White House Press Secretary Jay Carney makes $172,200, as does counterterrorism adviser John Brennan, speechwriter Jon Favreau, adviser David Plouffe and Chief of Staff Bill Daley.
While that's well above the national average, White House staffers often command far more lucrative salaries in the private sector -- and some gave them up to work for Obama.
Plouffe, for example, walked away from a $1.5 million salary as a consultant at Plouffe Strategies when he joined the administration.
Records also show that Daley, former Midwest chairman and head of corporate responsibility at JPMorgan (JPM, Fortune 500), raked in $8.7 million from the bank in 2010, including a $675,000 salary and $4.8 million bonus.
Obama himself earns $400,000, double the $200,000 President Clinton earned annually during his eight years in office. The president's pay hike went into effect during the presidency of George W. Bush.
In total, the 454 White House staffers earn a payroll of $37,121,463.