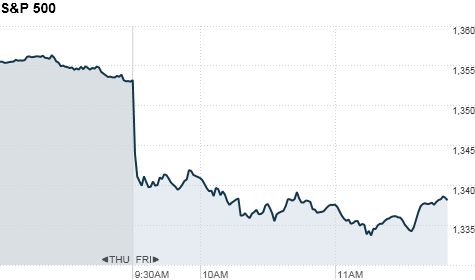 Click the chart for more market data.
NEW YORK (CNNMoney) -- The Labor Department's job report provided some fireworks on Wall Street. But not in a good way. The surprisingly disappointing numbers led to a 1% sell-off in the S&P 500.
Few sectors were untouched, with red across the board among many of the leading names of the recent rally.
The StockTwits community has been decidedly skeptical of the tools being deployed by Washington to stem the still uncomfortable 9.2% unemployment rate and the slow (and apparently slowing) rate of hiring.
But interestingly, it looks like one thing 99 weeks of unemployment pay is good for is increasing iPad and iPhone sales? Gimme food, shelter, and anything from Apple (AAPL, Fortune 500)!
Apple is reasserting its leadership status. It bucked the trend Friday and was rising even as many tech stocks fell. Buzz is that Apple will be unveiling cheaper iPhone models this fall.
The strong rally of the previous 8 trading days has some thinking Friday's sell-off is a mere blip on the radar which shows markets floating higher for the remainder of the summer.
As always, the StockTwits community had lots to say about the economy, Apple, and more.
gtotoy: why would anyone hire and ruin good profits? $SPY
wsmco: so if gov't pays people not to work for 99 weeks and gov't pays their mortgage for a year, then people won't try hard to find work? Shocking.
bvlaar: USA added 18,000 jobs in June vs. Canada adding 28,000 jobs in June. While Canada is 1/10th the size of the US. $MACRO
GregorMacdonald: Little is going to happen until the US policy complex finally accepts 1. This isn't a post-war recession. 2. The primacy of energy. $MACRO
fundmyfund: Mild selloff. If the market had not come in so overbought I'd think we could go green by end of day as 2nd half recovery meme dominates. $$
1nvestor: $AAPL working well today. Showed resolve in Pre-Market and kept up the attitude.
skepticave: Fewer people working = more people to shop for/buy $AAPL products...makes perfect sense to me