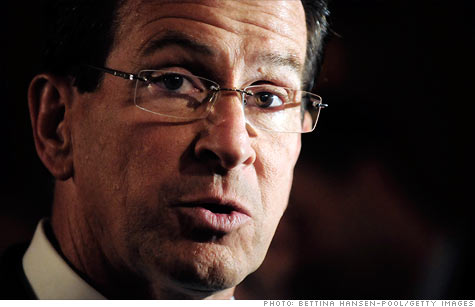 Connecticut has begun to notify state workers about layoffs as Governor Dannel Malloy reviews plans for even deeper budget cuts.
NEW YORK (CNNMoney) -- The layoffs are starting in Connecticut.
The state has begun sending layoff notices to its public employees two weeks after union members failed to approve Governor Dannel Malloy's proposal to save $1.6 billion in concessions and savings.
The governor is also reviewing proposals for deeper budget cuts within state agencies this week. He'll submit his plan to lawmakers on Friday.
Union members began receiving the notices Monday, said Matt O'Connor, spokesman for the State Employees Bargaining Agent Coalition, which covers all 15 unions representing roughly 45,000 state employees. More were delivered Tuesday.
The state will provide more details on the number of layoff notices being sent out, as well as the departments receiving them, later this week, a spokeswoman for the governor said. Malloy has said he's looking to shed 6,500 public employees, as well as eliminate 1,000 vacant positions.
The coalition is in talks with the governor to come up with an alternate solution to cut costs. The unions want to avoid the layoffs, as well as changes to their health care and retirement contributions. The union is also hoping to avoid having the state privatize various functions.
"We're working to find a path forward," O'Connor said. "Our intention all along was to keep folks working."
In early May, Malloy signed a $40.1 billion budget that raises taxes on sales, income, cigarettes and corporations. The budget should bring in $2.5 billion in additional levies over the next two years.
But it also depended on big concessions and savings from public employees, including wage freezes and higher contributions for retiree health care, to close a $3.3 billion budget gap. Malloy said at the time that thousands could be laid off if they did not approve the deal.
Though union leaders supported the governor's plan, not enough of the rank and file did.
So the legislature granted Malloy the power to make additional budget cuts. Agency heads submitted their proposals for deeper reductions, which could involve a mix of cutbacks and layoffs, last week.