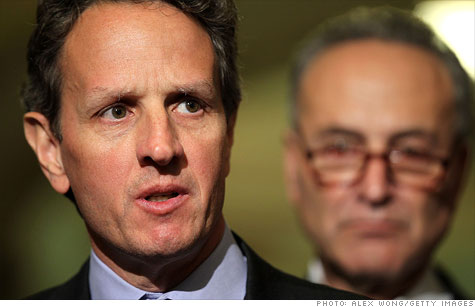 Lawmakers need to show progress in dealing with the country's long-term fiscal problems, Treasury Secretary Tim Geithner said Thursday. "We don't have much time."
NEW YORK (CNNMoney) -- If only lawmakers would raise the debt ceiling before Aug. 2, the United States will get to keep its top-notch credit rating. Right?
Yes, but not necessarily for long.
Two key ratings agencies have said they are expecting policymakers to not only raise the debt ceiling but to agree to meaningfully reduce the debt.
Moody's Investors Services said Wednesday it would likely change its outlook on the AAA rating to "negative" from "stable" unless "substantial and credible agreement is achieved on a budget that includes long-term deficit reduction."
Standard & Poor's on Thursday took it a step farther, announcing there was a one-in-two chance it would downgrade the United States within 90 days.
To date, the United States has enjoyed its AAA rating in part for having always stood behind its debt and paid its bills on time. As a result, U.S. Treasury bonds are considered the world's safe-haven investment.
President Obama told congressional leaders to decide by Friday whether they can make progress on a broad debt reduction package. If they can't, the sole focus of the talks will shift to negotiating how to increase the debt ceiling.
Moody's didn't define specifically what it meant by a "substantial and credible" agreement for debt reduction, but presumably having absolutely no agreement would not qualify.
Nor is it clear if a smaller debt-reduction deal than the one hoped for by fiscal experts will make the grade with Moody's.
A package of $4 trillion in spending cuts and revenue increases is widely considered by fiscal experts to the best way to start reining in the otherwise unsustainable trajectory in U.S. debt.
S&P appears to be looking for that kind of $4 trillion "grand bargain," as it's been called.
Were the Congress and the White House to strike such a deal, the agency said it could affirm the country's AAA rating "if we conclude that such an agreement would be enacted and maintained throughout the decade."
And, not insignificantly, the agency added that "for any agreement to be credible, we believe it would require support from leaders of both political parties."
If lawmakers raise the debt ceiling and appear on track to agree within a few months on debt reduction, S&P said it would affirm the country's AAA rating but assign a "negative outlook, pending review of the eventual plan."
Federal Reserve Chairman Ben Bernanke told lawmakers on Thursday that he never favored linking the debt ceiling vote to a debt-reduction package. But they were linked, and that built up expectations that a big deal would happen.
Now, if lawmakers fail to show the political will necessary to produce a substantive bipartisan agreement, that may have repercussions.
"I don't know how quickly or in what degree the markets would respond, but I think they are looking to Washington to show that they can, you know, manage their spending and control deficits over a long period of time," Bernanke said.
What will matter, too, is not just the size of the deal, but the content, said Maya MacGuineas, president of the Committee for a Responsible Federal Budget:
"If lawmakers end up with a debt-reduction package of any size that fails to address entitlements and the tax code, it's not at all clear that would be sufficient to reassure credit rating agencies and markets."
Former Treasury official Jay Powell told CNN Radio's Lisa Desjardins that he thinks chances are good that S&P will downgrade the United States, given how far lawmakers are from agreeing on a $4 trillion package.
"No matter what deal is done -- if it doesn't qualify for that (longterm solution) -- then we have at least a 50-50 chance of being downgraded," said Powell, who cowrote a Bipartisan Policy Center analysis detailing the potential fallout if lawmakers don't raise the ceiling.