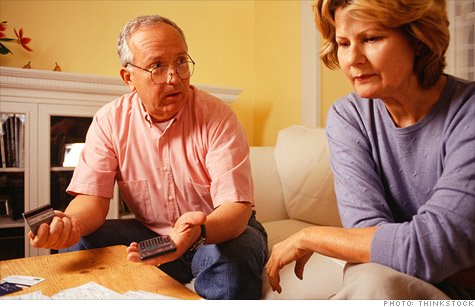 Consumer confidence still hasn't fully recovered from the recession, but in July, optimism about future business conditions and jobs picked up slightly.
NEW YORK (CNNMoney) -- Consumers aren't exactly feeling rosy about the economy, but in July, their confidence picked up slightly as they hung their hopes on an improving job market in the future.
The Conference Board, a New York-based business research group, said its Consumer Confidence Index for July rose to 59.5 from 57.6 in June, showing optimism about the economy picked up slightly from month to month.
"Overall, consumers remain apprehensive about the future, but some of the concern expressed last month has abated," said Lynn Franco, director of the Conference Board Consumer Research Center, in a statement.
According to the report, consumers were less content with their current financial conditions.
Instead, hope for an improving economy in the future was the main driver behind the overall increase in optimism. The report's so-called Expectations Index rose, even though the Present Situation Index fell.
Only 13.4% of participants in the study said current business conditions were "good," marking a decline from 13.7% the month before. Meanwhile, 39% declared conditions were "bad" -- an increase from 38.4% in June.
Pessimism about the job market also weighed on consumers. Only 5.1% of participants said jobs are "plentiful," while 44.1% said jobs are "hard to get."
But looking ahead six months, consumers were slightly more optimistic that business conditions, jobs and their income will improve.
Overall, economists were expecting the index to fall to 56, according to consensus estimates from Briefing.com.
Other than a one-month blip in February, the Consumer Confidence Index has jumped around significantly, and struggled to get above the 70-point mark since 2008.
"I think is more of the choppiness that we're seeing -- and overall, the reading is still relatively weak," Franco said. "It's been two years since the recession ended, and we've still not seen a full fledged recovery in Consumer Confidence."
Before the financial crisis warning signs surfaced, Consumer Confidence stood at 111.9 in July 2007.