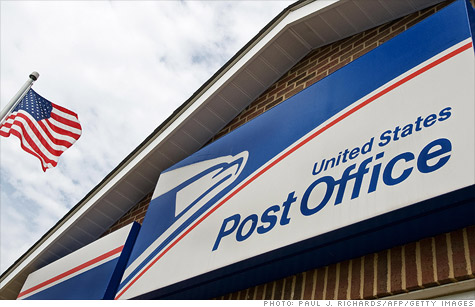 The U.S. Postal Service will close nearly 3,700 post offices in an effort to cut into its crippling deficits.
WASHINGTON (CNNMoney) -- Your little post office could be slated to close as the U.S. Postal Service tries to find ways to cut red ink.
Postmaster General Patrick Donahoe released a long-awaited "post office study" of nearly 3,700 potential closings in all 50 states and Washington, D.C.
"The Postal Service of the future will be smaller, leaner and more competitive and it will continue to drive commerce, serve communities and deliver value," Donahoe said.
Donahoe said that this and other moves, such as a proposal under consideration to reduce service to five days a week, are necessary to close a $20 billion gap in revenue by 2015.
The closings announcement came as no surprise, since the service announced plans last January to shut down thousands of stations and branches as part of an effort to stem steep losses.
In fiscal year 2010, the Postal Service suffered a $8.5 billion net loss, compared to a loss of $3.8 billion the prior year. Last quarter, the U.S. Postal Service posted a loss of $2.2 billion. Its fiscal year ends in September.
Most of the post offices being studied for closure have so little foot traffic that workers average less than two hours of work per day and average sales are less than $50 a day, according to the Postal Service. The closings are expected to begin within the next four to six months, with the first closing by January.
Donahoe estimated that the savings from the closings could be as much as $200 million.
The closings could cost the jobs of about 3,000 postmasters, 500 supervisors and another 500 to 1,000 clerks, said Dean Granholm, vice president of delivery and post office operations. The Postal Service has about 574,000 employees.
The list released Tuesday has 3,653 facilities named:
-- Some 3,061 post offices with less than $27,500 in annual revenue, or 2 hours of workload daily
-- 385 post offices with less than $600,000 in annual revenue, and 5 or more postal service locations, such as stamp kiosks, within two miles.
-- 188 post offices with less than $1 million in annual revenue, and 5 or more postal service locations within 0.5 mile.
-- 19 offices currently suspended.
To fill the gap, more than 2,500 so-called "village post offices" may be created in grocery and convenience stores in the next year, with the first round to be announced this fall, Granholm said.
A presentation showed a rendering of a small grocery storefront, combined with signage suggesting the building is also a "Village Post Office," complete with signs featuring the stylized logo of the Postal Service.
Donahoe said the village post office concept could help small businesses across the country.
"Many of these general stores are hanging on for dear life out there," Donahoe said. "They can take the money we give them to pay the rent and pay the light bill. We think it's a real win-win proposal."
It'll be up to the village postal office contractors to hire someone to staff post office sales. The village post offices won't be able to provide many services, including expedited mail, certified mail or shipping of odd-sized boxes
Post office closings have upset some community leaders who say it could hurt their town's identity and make it difficult for the elderly to collect their mail and send letters.
Some post offices, such as one in Laneview, Va., have already been notified they were under review and have held meetings to prepare to challenge any decision to close.
"This post office is small, and from me working here the past two years, I was pretty sure that this post office would be on the list," said Laneview manager Cynthia Reed-Fisher.
Dozens of residents attended a meeting at a church to tell the Postal Service why their location should be spared.
Donahoe and other postal officials have told CNN the downsizing will try to preserve local town identities by maintaining their names and zip codes, and continuing to deliver that mail through other nearby facilities.