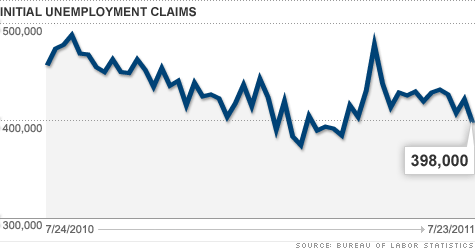 Initial unemployment claims dipped to 398,000 last week -- their first time below the 400,000 level since April 2.
NEW YORK (CNNMoney) -- Finally, some better news about the job market: the number of first-time filers for unemployment benefits fell below 400,000 for the first time since early April.
There were 398,000 initial unemployment claims filed in the week ended July 23, the Labor Department said Thursday.
That marks the first time since April 2, that the weekly initial claims number has fallen below 400,000, a level typically associated with payroll growth and a lower unemployment rate.
It also beats the 415,000 claims economists surveyed by Briefing.com had expected, and was 24,000 lower than the previous week.
Earlier this year, it appeared initial claims were on a downward track. But they then hit a speedbump in April, as high oil prices, bad weather and Japan's tsunami started to weigh on businesses.
Now, although last week's data were slightly encouraging, economists are still hesistant to say initial claims are completely back on track, because the data can be volatile.
"It's way too early to tell," said Jennifer Lee, senior economist with BMO Capital Markets. "There's still so much uncertainty out there and economic growth is still very subpar. If it does continue to improve, it would be very moderate."
Earlier in the month, Minnesota's shutdown caused an upward blip in the numbers, but that proved only temporary after the state government passed a budget on July 20.
Overall, the four-week moving average of initial claims --calculated to smooth out volatility -- fell by 8,500 to 413,750 in the latest week.
Continuing claims -- which include people filing for the second week of benefits or more -- fell to 3,703,000 in the week ended July 16, the most recent data available. That was slightly more than economists' forecasts for 3,688,000.
The current unemployment rate is 9.2%.