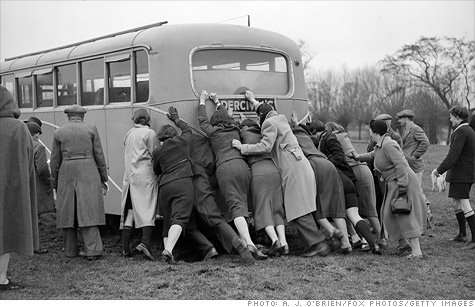 U.S. gross domestic product likely grew only 1.8% in the second quarter, economists say.
NEW YORK (CNNMoney) -- Despite a pick-up in growth at the end of last year, the economy has taken a hard turn for the worse in the last few months.
On Friday, the government will report how much the economy expanded in the second quarter -- but don't expect much good news.
A CNNMoney survey of economists forecasts the economy grew only 1.8% in the second quarter, which would be a slight slowdown from the first quarter, when it grew an already lethargic 1.9%.
That sluggishness comes after some encouraging growth of 3.1% in the last quarter of 2010. Things seemed to be moving in the right direction.

But then in 2011, the recovery was hit by a series of events, including a precipitous rise in gas prices, natural disasters that disrupted major world economies and a worsening sovereign debt crisis in Europe. And lawmakers' bickering about the debt ceiling here at home certainly hasn't helped either.
All of those factors are rattling consumers, whose spending habits alone account for roughly 70% of the nation's gross domestic product.
Spending takes a hit: Just when spending was finally starting to pick up, consumers pulled back in February, and growth began to slow for the next three months.
Can you blame them? During that time, gas prices rose to a national average of $3.98 a gallon, its highest level since 2008, and hit Americans' wallets hard.
"Higher gas prices were robbing other areas of spending, and that -- first and foremost -- shows up in GDP," said Ellen Zentner, senior U.S. economist for Nomura.
In June, consumer confidence -- as measured by the Conference Board -- hit its lowest level since November.

Zentner predicts Friday's report will show consumer spending only picked up 0.6% in the quarter -- less than half the 2.2% rate it grew in the first three months of the year.
"That kind of growth represents households that are spending only on necessities," Zentner said. "We don't have households reaching for credit. They're still very much mired in that mind set of paying down debt, rather than taking on debt. And that, on top of a weak labor market, is keeping consumers from spending."
Job market slumps: The year began on strong footing, with job growth picking up and layoffs tapering off.
But then hiring hit a snag in the second quarter, and employers began to tap on the breaks. After adding 497,000 jobs in the first three months of the year, growth started to slow in April. By June, the job market barely showed a pulse.
Meanwhile, at least 400,000 Americans file fresh unemployment claims each week and about 14 million people are currently unemployed.
Housing double dips: Making matters worse for Main Street, home prices plunged to their lowest level since 2002 earlier this year.
While some signs show the housing market has hit bottom, low home prices continue to impact both consumers' spending patterns, and their ability to relocate for jobs, Zentner said.
Because of this effect, economists predict residential investment -- which accounts for about 2% of the country's GDP -- slowed in the second quarter.
Manufacturing slows down: After a solid eight months of accelerating, growth in the manufacturing sector started to slow in March, according to the ISM Manufacturing Index.
Recently, several regional reports have also pointed to a manufacturing slowdown and on Wednesday, a government report showed orders for durable goods like aircraft, autos and computers fell in June.
Part of the recent weakness could still be due to the impact of Japan's earthquake and tsunami on the global supply chain, but economists also say it appears lower demand is also taking its toll.
The few bright spots: Second quarter GDP is basically riding on two key strengths -- a ramp up in business investment and stronger exports, said Jim O'Sullivan, chief economist for MF Global.
"Corporate profits are growing even more, and companies have been piling up cash," he said, pointing to reports that show businesses have recently boosted their spending on items like equipment and software.
While those strong corporate balance sheets have yet to translate into meaningful job growth for average Americans, business spending accounts for about 10% of GDP -- so it will help the growth numbers look better.
Meanwhile, rapid growth in emerging markets like China has also helped U.S. exports pick up. Exports grew rapidly in the second quarter, whereas imports barely changed due to fewer shipments from Japan. That effect is expected to add to the GDP figures, even if it is only temporary.