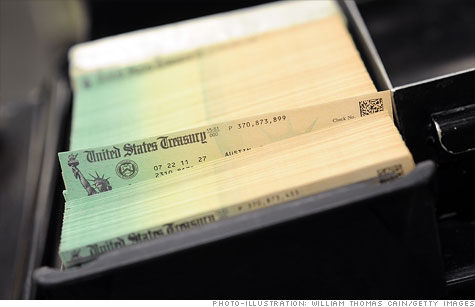 Social Security recipients will get their August payments thanks to debt ceiling deal.
NEW YORK (CNNMoney) -- Social Security recipients can breathe a sigh of relief.
Their August checks will be in the mail -- or in their bank accounts -- thanks to the debt ceiling agreement signed by President Obama Tuesday.
Some 28 million payments will be made tomorrow, with another 27 million checks going out later in the month.
"There will be no delay in the payment of August Social Security benefits which should be a relief to those people who were concerned about their benefits," said Michael Astrue, Social Security commissioner.
Recipients had feared their payments would be delayed as policymakers clashed over how to solve the debt ceiling impasse. Obama had said the federal government might not have enough cash on hand to send out all the checks.
A deal was finally struck only a few days before the deadline.