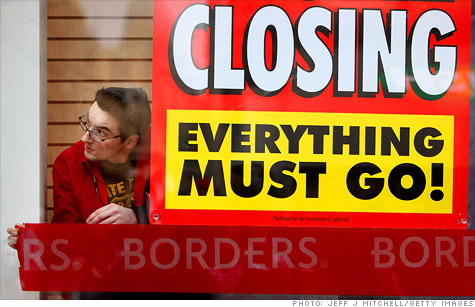 About 10,700 Borders employees are losing their jobs as the bookstore chain closes. Companies announced more than 60,000 job cuts in July. Click the photo to read about other mass layoffs.
NEW YORK (CNNMoney) -- The jobs recovery slowed for a third month in a row, according to two reports out Wednesday.
Private sector employers added 114,000 workers in July, marking a decrease from the 145,000 jobs added in June, payroll processing firm ADP reported.
That number beat economists' forecasts for 100,000 additional jobs, but it is also taken with a grain of salt by some economists, since ADP's figures have differed wildly from government data this year. In June, ADP's initial numbers topped the government figures by 100,000.
Meanwhile, a separate report showed more firms are opting to downsize, rather than add to their payrolls.
The number of planned job cuts surged to a 16-month high in July -- rising 60% in July to 66,414 from June's 41,432, according to outplacement consulting firm Challenger, Gray & Christmas.
The Challenger report characterized it as a "sudden and unexpected burst" in downsizing.
The data was hardly a surprise though, given a flurry of mass layoffs announced in the last few weeks by Cisco Systems (CSCO, Fortune 500), Merck & Co., (MRK, Fortune 500) Borders, Lockheed Martin (LMT, Fortune 500) and Boston Scientific (BSX, Fortune 500). Those five companies alone accounted for 38,100 planned cuts in July.
"What may be most worrisome about the July surge is that the heaviest layoffs occurred in industries that, until now, have enjoyed relatively low job-cut levels, including pharmaceuticals, computer and retail," John A. Challenger, chief executive officer of Challenger, Gray & Christmas said in a statement.
The latest employment data, along with other weak reports, have economists questioning their earlier forecasts for the recovery.
High gas prices and Japan's earthquake were originally thought to be causing a temporary soft patch in the first half of 2011.
"If it was a temporary slowdown, they wouldn't actually fire people," said Paul Dales, senior U.S. economist with Capital Economics. "To actually fire people is, to me, a sign that companies believe there is a more permanent slowdown going on."
Both the Challenger report and the ADP report are known to set the tone for the government's closely watched monthly jobs report due out Friday.
Economists polled by CNNMoney are expecting 75,000 jobs were added to payrolls in the month. The unemployment rate is expected to stay at 9.2%.