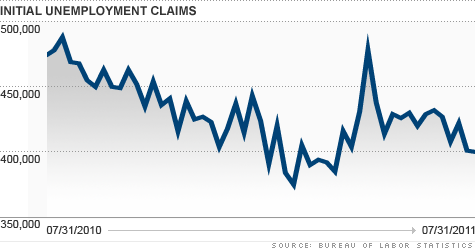 NEW YORK (CNNMoney) -- The number of first-time filers for unemployment benefits fell last week, but remained at a key level signaling that the job market remain sluggish.
There were 400,000 initial unemployment claims filed in the week ended July 30, the Labor Department said Thursday, down 1,000 from an upwardly revised 401,000 the prior week. Economists surveyed by Briefing.com were expecting jobless claims to rise to 405,000.
Initial claims have sat above 400,000 for 17 consecutive weeks, since the start of April, when high oil prices, bad weather and Japan's tsunami were weighing on businesses.
Economists say claims need to consinstenly hold below that level to achieve sustainable job growth and lower the unemployment rate.
"The job market and the broader economy are firmly in agonizingly slow growth mode for foreseeable future," said Tim Quinlan, economic analyst at Wells Fargo. "While we don't think there will be another recession, the probability of that has never been higher than it is now."
Overall, the four-week moving average of initial claims -- calculated to smooth out volatility -- fell by 6,750 to 407,750 in the latest week, the lowest since April 15. While the downward trend is welcome, the figure also marked the 15th week that the average remained above 400,000.
Continuing claims -- which include people filing for the second week of benefits or more -- increased by 10,000 to 3,730,000 in the week ended July 23, the most recent data available. That was more than economists' forecasts for 3,700,000.
The jobless claims data came ahead of Friday's closely watched monthly jobs report, which is expected to show that the U.S. economy created 75,000 jobs in July, according to a consensus of 19 economists surveyed by CNNMoney.
The unemployment rates is expected to hold steady at 9.2%.
"The U.S. economy remains in a questionable phase and employers are well aware of it," said Jim Baird, chief investment strategist at Plante Moran Financial Advisors.
"The recent softening in the U.S. economy, coupled with generally declining expectations for growth in the second half of the year, is likely to continue to weigh on hiring plans, making sustained improvement in job creation unlikely in the months ahead," he added.

Have you been unemployed for more than two years and have run out of jobless benefits? How are you surviving? Tell us about it and you could be included in an upcoming story on CNNMoney.