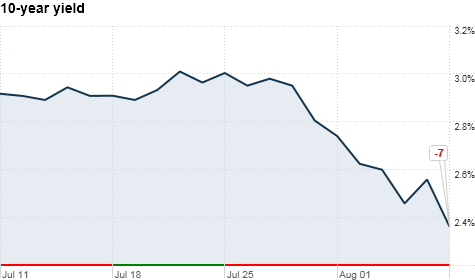 Click the chart to view more bond prices and yields.
NEW YORK (CNNMoney) -- For the first time in history, the United States no longer deserves its cherished AAA-status -- at least according to Standard & Poor's. So are investors dumping their Treasuries? Far from it.
In fact, investors rushed to buy Treasuries on Monday, the first day investors could react to Standard & Poor's downgrade. The buying drove yields down to 2.34% on the 10-year Treasury, from 2.56% late Friday.
The buying is being driven by rising fear and uncertainty: What would the impact of the downgrade be? How will the European debt crisis play out? And will the U.S. fall back into recession?
In such uncertain times, investors typically flee risky assets such as stocks and pile into perceived safe havens, which for now include U.S. Treasuries.
"The U.S. Treasury sector remains the largest and most liquid fixed-income market in the world with the greatest degree of price transparency and few genuine alternatives," said BlackRock, the world's largest money manager, in a statement.
"While a time may come when the credit risk-free status of Treasury bonds is diminished by continued policy missteps, we do not believe that the S&P downgrade signals that this moment has come now," BlackRock said.
The 10-year Treasury yield is now at its lowest level since January 2009. The yields on other Treasuries also sank.
China, the largest holder of U.S. debt with more than $1 trillion in U.S. Treasuries, used S&P's rating cut as an opportunity to demand that Washington get its finances in order and to question the primacy of the dollar. Still, the country has no plans to dump U.S. debt anytime soon.
Furthermore, it is also doubtful that individual investors will reduce their Treasury holdings.
"Very few private investors will have to make any changes to their holdings either, including U.S. money market mutual funds, because the downgrade applies only to long-term Treasuries," said Ian Shepherdson, chief U.S. economist at High Frequency Economics, in a note to clients.
Plus, Shepherdson added, U.S. debt remains in perfect standing with the other two major rating agencies, Moody's Investor Services and Fitch Ratings.
"We don't care what S&P thinks, about Treasuries or anything else," he said. "Its appalling record over the last few years, during both the mortgage blow-up and the sovereign debt crisis in Europe, speaks volumes."
And the single notch difference between AAA and AA+, S&P's new rating on U.S. debt, is minimal: the capacity of the United States to meet its financial obligations has slipped from "extremely strong" to halfway between "extremely strong and "very strong," Shepherdson noted.
The U.S. Treasury Department plans sell $72 billion in bonds in auctions this week.
The sale will begin with $32 billion in 3-year notes Tuesday. The Treasury will auction $24 billion in 10-year notes Wednesday, and conclude with the sale of $16 billion in 30-year bonds Thursday.