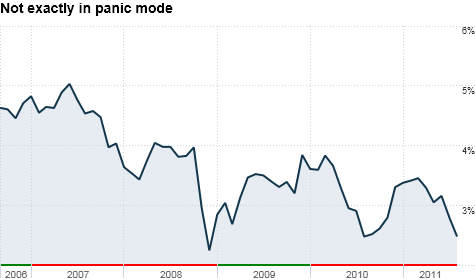 The 10-Year Treasury yield has a long way to go before it hits crisis levels. And a rating of AA+ isn't likely to scare bond investors off and send yields soaring. Click chart for more on bonds.
NEW YORK (CNNMoney) -- Something tells me John Chambers of Standard & Poor's will no longer be confused with the CEO of Cisco Systems (CSCO, Fortune 500).
There was nothing "standard" about the rating agency's decision to downgrade the credit rating of the United States on a Friday evening in August -- usually one of the sleepiest times of the year for investors.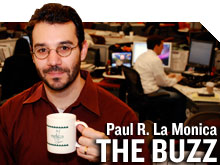 But despite criticism from Washington and Wall Street for what appears to be some fuzzy math behind S&P's decision to strip the U.S. of its AAA status, there was nothing "poor" about the rating agency's judgment.
The writing was on the wall -- even before the President and Congress came up with a laughable compromise to cut a teensy-weensy portion of the deficit in exchange for raising the debt ceiling last week.
That may have been enough to convince rating agencies Moody's and Fitch to not downgrade the U.S. yet. (Congrats! You didn't default. Here's a AAA cookie!) But it was widely known S&P would be the toughest agency to please.
And let's be honest. Does the U.S. really deserve the highest possible credit rating anymore? The combination of an onerous (and growing) debt load and political "leaders" that make the Keystone Kops look effective is hardly a recipe for a perfect credit score.
So instead of complaining about why S&P made the move or wondering if anything could have been done to avoid a downgrade, now is the time to ask how the cut to AA+ will affect financial markets.
It could mean more turmoil for stocks. Equity investors are about as emotional as teenage girls. But the more staid bond market may merely shrug this off.
"You can't really have a simultaneous downturn in stocks and downturn in bonds for a sustainable period of time" said Daniel Alpert, managing director of Westwood Capital, an investment bank in New York. "The Treasury market is just too big. Cash sloshes around from one asset to another."
S&P has made it no secret that its downgrade is more about politics and less about the actual health of the credit markets. Alpert and others say that's another reason why damage in the bond market may be minimal.
"The downgrade is not an issue of creditworthiness. The problems are about cash flow and timing, not solvency," said Jim Sarni, managing principal at Payden & Rygel, an investment firm in Los Angeles.
It is hard to imagine why bond investors would panic and sell U.S. debt. Bond investors often buy Treasuries at times when the economy is weak.
The worst enemy of a bond investor isn't a ratings cut to one notch below the perfect score, it's inflation. And with unemployment above 9% and the housing market in tatters, inflation is clearly not in the cards right now.
That's why the yield on the 10-Year Treasury is hovering around 2.5% -- not too far from where it was during the worst of the 2008 financial crisis.
"There may be some knee jerk selling of Treasury bonds in the short-term and yields could edge up a bit. But they can't go up much or for that long," said Michael Mata, manager of the ING Global Bond Fund (INGBX) in Atlanta. "The real story is not the downgrade but the lack of growth in the U.S. economy."
So interest rates tied to various loans may not skyrocket as much as some are predicting.
Heck, the Federal Reserve now probably has clearance to keep short-term rates near zero throughout 2012 -- if not longer. Sarni said the fact that rates remain low also should minimize the chances of a double-dip recession.
Still, what about the worries that big investors will be forced to unload Treasuries because of the downgrade? Some fund managers have mandates that only allow them to own AAA-rated debt. Well, those fears may be for naught.
Mata said the rules aren't so strict that one downgrade will be an automatic trigger to sell. Many big institutions can continue to own bonds that have been downgraded as long as they are still rated AAA by the other two of the three major agencies.
Of course, if Moody's and Fitch join S&P with a cut, that would be extremely problematic. But unless they do, Treasuries may still remain fairly attractive (and secure) bets.
Seriously, if you are a big bond investor -- say a large Asian country whose name rhymes with Dinah -- you can talk tough. But where are you going to put your money? Canada? Denmark? The Isle of Man? Good luck with that.
Big, liquid and slightly flawed beats small and perfect. Even some of the larger AAA rated countries, most notably the United Kingdom, France and Germany, have obvious knocks against them because of Europe's debt crisis.
In other words, the U.S. could have more company in the AA+ club soon.
"There is a loss of confidence around the world. The S&P downgrade could accelerate downgrades of other AAA entities, especially in Europe," said Jeff Sica, president and chief investment officer of SICA Wealth Management in Morristown, N.J. "Europe is a complete catastrophe."
But Sica, who predicted that the U.S. may get downgraded back in March, said confidence in America is clearly shaken too. We'll find out just how badly after three key auctions of Treasury debt this week. The first is Tuesday -- conveniently the day of the Fed's next policy meeting.
Sica said demand may suffer a bit but the impact will likely be modest. The Fed, after all, is still investing proceeds from maturing securities into Treasuries.
But Sica added that the "U.S. is not Europe" rationale for buying Treasuries can only hold true for so long. He's worried about the longer-term and hopes the downgrade is the proverbial wake-up call that finally gets Washington to act in a fiscally responsible manner.
"It still may be a case of the U.S. being the best of the worst," Sica said.
The opinions expressed in this commentary are solely those of Paul R. La Monica. Other than Time Warner, the parent of CNNMoney, and Abbott Laboratories, La Monica does not own positions in any individual stocks.