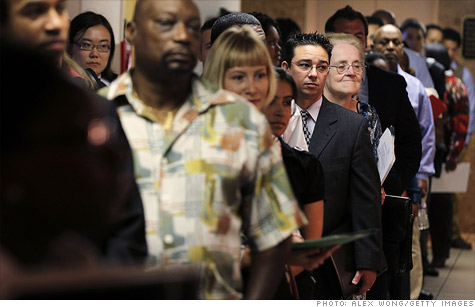 The number of first-time filers for unemployment benefits rose more than expected last week to 408,000.
NEW YORK (CNNMoney) -- The number of first-time filers for unemployment benefits rose more than expected last week and jumped back above the key 400,000 level, signaling that the job market remains stuck in the mud.
There were 408,000 initial unemployment claims filed in the week ended Aug. 13, the Labor Department said Thursday, up 9,000 from an upwardly revised 399,000 the prior week.
The figure was higher economists' forecasts for 400,000, according to consensus estimates from Briefing.com.
Initial claims have sat above 400,000 for the last 18 out of 19 weeks. The trend began at the start of April, when high oil prices, bad weather and Japan's tsunami were weighing on businesses.
Claims barely broke below that level for the first time earlier this month, a welcome sign amid increasing concerns about an economic slowdown, only to jump right back in the latest week.
While the drop below 400,000 was a positive sign, Wells Fargo economic analyst Tim Quinlan said it is still encouraging to see that claims didn't swing too far above the significant mark in the latest week.
Still, for sustainable job growth and a lower unemployment rate, Quinlan said claims to need break into the 300,000 level and hold there consistently.
Quinlan said he expects claims could experience a drop-off soon, especially as car manufacturers return from their seasonal summer shutdown periods.
Because of the the supply disruptions resulting from the earthquake in Japan, Quinlan said most auto factories started their retooling shutdowns earlier in the year, and should be back online sooner than normal.
Overall, the four-week moving average of initial claims -- calculated to smooth out volatility -- fell by 3,500 to 402,500 in the latest week.
Continuing claims -- which include people filing for the second week of benefits or more -- increased by 7,000 to 3,695,000 in the week ended Aug 6, the most recent data available. That was more than economists' forecasts for 3,698,000.