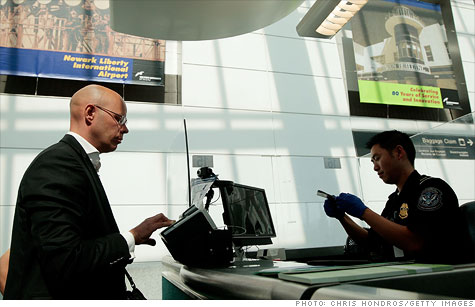 The government is looking to expand a program that reduces waiting times at airport customs.
NEW YORK (CNNMoney) -- Long lines to pass through airport customs might be getting a tiny bit shorter.
The federal government said Tuesday it is working to finalize a new rule that will expand its Global Entry Program, a pilot initiative that allows pre-approved travelers to pass more quickly through customs.
The program -- currently in a limited number of airports, and limited to arrivals from certain countries -- allows frequent international travelers who have passed a background check to use an automated kiosk to clear passport control.
The plan to expand the program is one component of the Obama administration's long-running effort to streamline regulations across 26 agencies.
On Tuesday, the government released its final agency plans -- in more than 800 pages of text -- to remove burdensome regulations. And those plans included the expansion of the Global Entry Program.
According to government estimates, the average traveler saves 7.6 minutes in wait time using the quick pass. But the trip to the front of the line is not without cost -- a $100 fee is required for a five-year membership.
Initiated in July 2010, the pilot program was used by travelers 780,000 times in its first year of operation for an estimated time savings of almost 100,000 hours.
Not only is the Department of Homeland Security working to make the program permanent, but it's also set to open the program to citizens of additional countries.
"DHS is actively working to expand the Global Entry program to additional U.S. airports and to include nationals from additional countries," the report said.