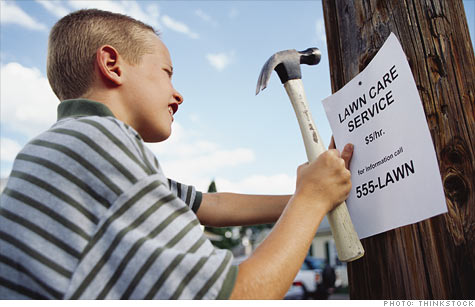 Jobs are tough to come by for all Americans, but the youth job market is particularly rough.
NEW YORK (CNNMoney) -- The U.S. job market sure has been rough, but for young Americans this summer it was downright dismal.
A Bureau of Labor Statistics report released Wednesday said 745,000 more job seekers between 16 and 24 years old were unemployed from April to July. That compares with an increase of 571,000 among the same age group last summer.
In July, the share of young people who were employed was 48.8%, marking a record low for the second straight year. July is traditionally the peak month for summertime employment.
"This has been another summer of lost opportunities for our nation's young people," said Michael Saltsman, research fellow at the Employment Policies Institute.
While the job market for all Americans has been sluggish, the weak economy has hit young job seekers particularly hard. The youth unemployment rate in July was 18.1%, compared with 9.1% overall.
Saltsman said the bleak jobs picture for young Americans reflects the fallout from the 2007-2008 recession and increases in the minimum wage.
"As a result, the next generation is missing out on the life lessons that come from an entry-level job," he said.
But other measures of the youth job market were slightly better than last year.
Overall, the number of employed youth rose by 1.7% to 18.6 million over the three-month period.
Despite the increase, the youth job market is not growing fast enough to keep up with population growth, according to BLS economist Jim Borbely.
"The youth job market definitely isn't worse than it was last year, but it's not getting better," he said.