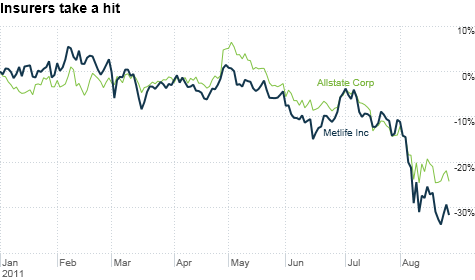 Click on chart to track stocks
NEW YORK (CNNMoney) -- Investors will be focused on insurers, who could be footing a massive bill as a hurricane bears down on the East Coast.
Shares of Allstate (ALL, Fortune 500), MetLife (MET, Fortune 500), the Chubb Corp. (CB, Fortune 500) and the Travelers Companies Inc. (TRV, Fortune 500) managed to make gains Friday, moving in tandem with the market rally.
But insurance stocks had a rough morning, dropping 3% in anticipation of Hurricane Irene, which was heading for a long swath of coastline from North Carolina to New York.
Allstate and Travelers have large "business footprints" in North Carolina, where the hurricane is expected to make landfall, noted Morgan Stanley analyst Gregory Locraft.
Locraft said Chubb has the greatest exposure to the coastal regions in New York and southern New England, followed by Allstate and Travelers.
"With average wind speeds of 74-110 MPH a Category 1-2 storm has the potential for material damage in these areas which have among the highest concentration of wealth in coastal regions in the U.S.," he wrote, in a research note.
CoreLogic (CLGX), a provider of business information, said that about 1,875,000 residential and commercial properties along the coast from Wilmington, N.C., to Boston are at risk of storm surge flooding. The areas at greatest risk are Long Island, N.Y., with about 388,000 properties facing potential flooding, and Virginia Beach, with more than 351,000 properties.
Insurers have already had a bad year, stemming from destructive storms that swept through the Midwest and Southern states in the spring.
Storms ripped through those states in April, causing about $5 billion in damage. One of these storms featured 178 tornados and killed at least 300 people, most of them in Alabama.
And then in May, a tornado devastated the town of Joplin, Mo., killing at least 117 people and causing up to $3 billion in insured losses.
Allstate said that it suffered record-breaking "catastrophe losses" of more than $2.3 billion in the second quarter from severe weather. The insurer said this was the result of 33 "catastrophe loss events" including five tornados, three wildfires and 25 wind or hailstorms.
Allstate's stock is down 23% from the start of the year, while Travelers has shed 14% and MetLife has plunged 30%.
Other insurers, including Alleghany Corp. (Y) and Progressive (PGR, Fortune 500) were also down for the year.
Matt Carletti, a managing director and senior research analyst at JMP Securities, said that the international insurance industry probably suffered record-breaking losses during the first half of the year. But the numbers won't be confirmed, until all the damage is tallied from the earthquake-tsunami-nuclear meltdown that struck Japan in March.
He said that Japanese damage estimates could be as high as $30 billion worth of insured losses.
The U.S. impact from hurricane Irene remains to be seen, but it ravaged the Bahamas on its way north.
Carletti said that if Hurricane Irene is particularly catastrophic -- causing as much as $30 billion in damage -- then it could result in "substantially higher rates."
For that to happen, Hurricane Irene would have to rival Hurricane Katrina, which devastated New Orleans and other parts of the Deep South in 2005.
The Consumer Federation America forecast that payments for wind damage from Hurricane Irene will probably exceed $5 billion and flood claims will probably reach $2 billion.