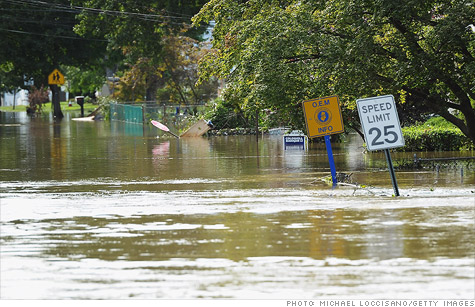 Tropical Storm Irene was the first to make direct contact on New Jersey in 108 years, flooding towns like Pompton Lakes.
NEW YORK (CNNMoney) -- Swaths of the Northeast still submerged under water face an arduous recovery as hundreds of homes remain clogged with mud and crushed roads isolate deluged communities.
East coast residents and insurers also face billions of dollars in damages from Hurricane Irene.
The damage to insured property is expected to range from $2 billion to $5 billion, according to an estimate from IHS Global Insight Analysis. Total economic losses, including uninsured, could range from $5 billion to $15 billion, according to IHS.
This is even higher than the estimate from catastrophe modeling firm AIR Worldwide, which projected that property losses from wind and storm surge damage could total from $3 billion to $6 billion.
Kinetic Analysis Corp., which estimates the impact of natural and man-made disasters on the economy, said the damage could total $7 billion. Less than half of that -- some $3 billion -- will be covered by insurance, the company said.
Officials from President Barack Obama's administration will travel Tuesday to Virginia, North Carolina and Vermont -- some of the hardest-hit states -- to survey ongoing response efforts, the Department of Homeland Security said.
At least 27 deaths in nine states have been blamed on the storm known as Irene, with one person from Vermont still missing and feared dead.
More than a day after Irene left the United States, floodwaters were still cresting late Monday night in Vermont.
"It's just devastating," Gov. Peter Shumlin said Monday. "Whole communities under water, businesses, homes, obviously roads and bridges, rail transportation infrastructure. We've lost farmers' crops," he said.
Hundreds of people remained trapped Monday in communities cut off by raging floodwaters that damaged or destroyed 263 roads and bridges, Shumlin said. Exactly how many were stranded remained unclear, he said.
Forecasters predicted the Passaic River in New Jersey would continue swelling Tuesday, doubling the level considered a "flood stage" in some areas.
And the town of Prattsville, New York -- more than two hours away from the coastline -- is now virtually unrecognizable.
The area flooded when Schoharie Creek rose more than 15 feet in less than 12 hours and intense rainfall funneling down the Catskill Mountains sent a volume of water greater than that of Niagara Falls -- both the American and Canadian sides -- crashing through town, Greene County Administrator Shaun Groden said.
"People can't go home. They have nothing, floors all mud, car on top of the deck. They've lost everything," said Elsie Stuppert, an employee of the Hideaway Hotel in Prattsville.
With bridges destroyed all around them, 21 people who had been stranded in Prattsville were rescued Monday after four trips by a state police helicopter.
In addition to the continuous flooding, residents up and down the East Coast are still contending with power outages.
As of Monday, about 5 million customers were without power, said Craig Fugate, director of the Federal Emergency Management Agency, citing figures from the Department of Energy. That number was down from about 6 million earlier, he said.
Connecticut Light & Power (CNLTP) reported Monday night that an estimated half million people had no power. Some customers might have to wait a week or more because of damage to the system.
But the havoc Irene wreaked on transportation is only beginning to subside.
Amtrak announced train service between New York and Boston will resume Tuesday.
And airlines are recovering after canceling thousands of flights over the weekend.
About 650,000 to 700,000 air travelers have been grounded since Friday because of flight cancellations prompted by Irene, said Daniel Baker, CEO of FlightAware.com, a flight tracking service.
"I'm ready to go so I can go to work. Get to the airport, cancellation," said Jerry Delerme, who was trying to fly to New York from south Florida.
It will take a few days for everyone to get where they want to go, said Mateo Leras, a spokesman for JetBlue (JBLU).
Tuesday and Wednesday are usually the slowest air travel days of the week, which will help travelers get on the flights they want, said Todd Lehmacher, a spokesman for US Airways (LCC, Fortune 500).
The full extent of Irene's damage won't be known for some time. The U.S. government estimates that the cost from wind damage alone will exceed $1 billion. Analysts have put the total anticipated cost of Irene much higher.
Still, shares of insurers Travelers Companies Inc. (TRV, Fortune 500), Hartford Financial Services Group (HIG, Fortune 500), and Allstate (ALL, Fortune 500) rallied Monday on relief that the damages weren't worse. MetLife (MET, Fortune 500) and Chubb Corp. (CB, Fortune 500) also got a boost.