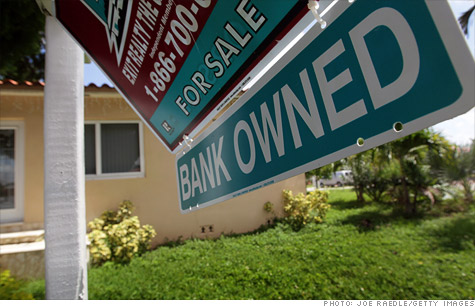 A Bank Owned sign is seen in front of a foreclosed home on September 16, 2010 in Miami, Florida.
NEW YORK (CNNMoney) -- More than a dozen banks are expected to face lawsuits from a federal housing agency accusing them of misrepresenting the value of mortgage-backed securities.
The news, reported by The New York Times and Wall Street Journal, comes a day after the Federal Reserve sanctioned Goldman Sachs over questionable practices in one of its former mortgage units.
The Federal Housing Finance Agency, which oversees Freddie Mac and Fannie Mae, is getting ready to sue Goldman Sachs (GS, Fortune 500), JPMorgan Chase (JPM, Fortune 500), Bank of America (BAC, Fortune 500) and Deutsche Bank (DB) among others, according to the reports.
The bank stocks were all lower after the market open, along with the plunging stock market, which was being dragged down by an anemic job report.
Freddie Mac and Fannie Mae, which were bailed out by the U.S. government in 2008, have lost billions of dollars over the mortgage mess.
The FHFA, JPMorgan, Goldman Sachs and Bank of America declined to comment to CNN. The other banks have not yet responded to requests for comment.
"The suits, which are expected to be filed in the coming days, stem from subpoenas the finance agency issued to banks a year ago," wrote Deutsche Bank analysts Jim Reid and Colin Tan, in a note to investors. "It seems that there is little end in sight for the sector as far as negative news is concerned."
The banks are being blamed for contributing to the housing crisis that played into the fiscal crisis of 2008. Fannie and Freddie were major investors in mortgage-backed securities.
The Federal Housing Finance Agency sued UBS (UBS) back in July for "violations for federal securities laws in the sale of residential private-label mortgage-backed securities."
Back in April, regulators charged the biggest 16 banks in the U.S., including Bank of America, JPMorgan, Wells Fargo (WFC, Fortune 500) and Citigroup (C, Fortune 500), with "unsafe and unsound practices" on foreclosures and ordered a sweeping overhaul of their mortgage operations.
And earlier this year, Bank of America reached a $3 billion agreement with Fannie and Freddie to settle a faulty mortgage loan dispute involving Countrywide Financial.