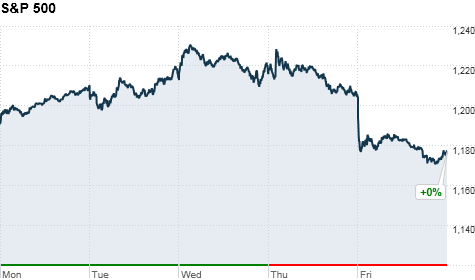 Click chart for more of today's market action.
NEW YORK (CNNMoney) -- Stocks ended sharply lower Friday, erasing the week's gains, after a government report showing no job growth in August stoked fears that the U.S. may be headed into another recession.
All three indexes posted their worst one-day percentage loss in more than two weeks. Before Friday's session, the major indexes had been up between 2% and 3% for the week. But after the steep losses Friday, stocks ended the week little changed.
The Dow Jones industrial average (INDU) finished down 253 points, or 2.2%, with financial stocks leading the sell-off. Bank of America (BAC, Fortune 500) fell 8%, and JPMorgan Chase (JPM, Fortune 500) shed more than 4%.
The selling was broad, with all of the 30 Dow issues firmly in the red. Just a handful of S&P 500 stocks showed gains, including Newmont Mining (NEM, Fortune 500) and Supervalu (SVU, Fortune 500).
The S&P 500 (SPX) lost 30 points, or 2.5%, and the tech-heavy Nasdaq Composite (COMP) dropped 66 points, or 2.6%.
Before the opening bell, the Labor Department said employers showed a net jobs change of zero last month -- meaning the U.S. overall neither gained or lost positions. That was the weakest reading since September 2010, when the economy lost 27,000 jobs. The last time the headline employment change number was zero was in February 1945.
A CNNMoney survey of 21 economists had forecast that the U.S. economy would add 75,000 jobs overall. The Labor Department reported that the unemployment rate remained unchanged at 9.1%, as expected.
August's weakness in the labor market was no surprise. The month started with Congress squabbling about the debt ceiling, Standard & Poor's downgrading the U.S. credit rating and the stock market swinging wildly.
"This generally confirms what we already knew: August was a tough month," said Brad Sorensen, director of market and sector research with the Schwab Center for Financial Research. "The lack of job growth is modestly disappointing, but it doesn't change the overall picture."
Friday's bad news sent investors flocking to traditional safe havens, including gold and U.S. Treasuries. Concerns about the U.S. economy slipping back into a recession have been in the spotlight during the last several weeks.
Gold prices jumped $47.80, or 2.6%, to settle at $1,876.90 an ounce, while the yield on the 10-year note slid closer to 2% -- a level it hasn't seen since mid-August. Oil prices, meanwhile, dropped 2.5% to settle at $86.45 a barrel.
Stocks ended Thursday's session solidly lower, as weakness in financial shares offset a stronger-than-expected manufacturing report that initially eased some investor jitters.
Economy: Sorenson said investors will keep a close eye on economic data leading up the Federal Reserve's two-day meeting in September.
"I think the bar for another round of quantitative easing, or something along those lines, is still fairly high," Sorensen said. "If we get more bad numbers, that could change the story. But at this point, I don't expect we'll see any new Fed action at the next meeting."
Investors will also tune into President Obama's economic address to a joint session of Congress on Sept. 8, which is expected to focus on his long-awaited jobs proposal.
Companies: Shares of H&R Block (HRB) plunged 12%, making it the worst performer on the S&P 500, after the tax-preparation company reported disappointing quarterly results after Thursday's closing bell.
Netflix (NFLX) shares sank almost 9%, after Starz said late Thursday that it has ended contract renewal negotiations. Starz will pull its movies and TV shows from Netflix early next year. Netflix was among the worst-performing stocks on the S&P 500 and Nasdaq.
Financial stocks were also under intense pressure following news reports, citing unnamed sources, that said the Federal Housing Authority was gearing up to file lawsuits against Bank of America, JPMorgan Chase, Goldman Sachs (GS, Fortune 500), among others.
On Thursday, the Federal Reserve sanctioned Goldman over questionable practices in one of its mortgage units. Shares of the bank fell 5%.
Liz Claiborne's (LIZ) stock jumped 9% after the cash-strapped apparel company said it agreed to sell its Mexx fashion brand to a joint venture with a private equity firm. The deal is expected to help Liz Claiborne trim its debt.
Shares of AstraZeneca (AZN) slipped 3.5% after the company said that its anti-cholesterol drug failed to stand out in a study that aimed to show it would be more effective than generic versions of rival Pfizer's Lipitor, which are due to hit shelves later this year.
World markets: European stocks took a dive Friday, following the U.S. jobs report. Britain's FTSE (FTSE) 100 fell 2.3%, the DAX (DAX) in Germany sank 3.4% and France's CAC (CAC) 40 fell 3.6%.
Asian markets ended the session ended lower. The Shanghai Composite (SHCOMP) fell 1.1%, the Hang Seng in Hong Kong (HSI) dropped 1.8% and Japan's Nikkei (N225) tumbled 1.2%.
Currencies: The dollar rose against the euro, but fell versus the Japanese yen and the British pound.