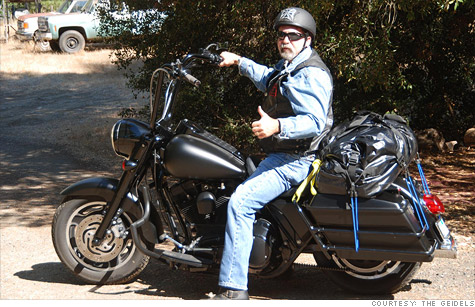 First responder Ralph Geidel was diagnosed with neck and tongue cancer in 2003. He's riding cross-country from California to Ground Zero in honor of his brother, who died in the atttacks.
NEW YORK (CNNMoney) -- Ralph and Barbara Geidel have spent close to $100,000 on his medical treatment since 2003, when the former fireman and 9/11 first responder was first diagnosed with tongue and neck cancer.
"We've already used up all of our savings," said his wife, Barbara. "We're now living paycheck to paycheck."
The Geidels were hoping to finally get some health insurance help with their mounting medical bills, when President Obama earlier this year signed into law the James Zadroga 9/11 Health and Compensation Act.
The Zadroga Act, also known as the First Responders Bill, sets aside $1.5 billion in federal and New York City funds to cover all costs for treating certain 9/11-related illnesses, and $2.7 billion in compensation for victims who suffered economic hardship as a result of the attacks.
But the law hasn't done a thing for the Geidels when it comes to filling the health insurance gap, because cancer is not one of the medical conditions currently approved to be covered by the fund.
Illnesses that are eligible for full coverage include asthma, lung disease, chronic cough syndrome, laryngitis, sleep apnea, sinusitis, digestive disorders, depression, post traumatic stress disorder and substance abuse.
According to the Centers for Disease Control, which is administering the fund, there isn't enough scientific evidence linking cancer in first responders to their exposure to toxic substances from the 9/11 attacks.
The fund took effect on July 1, and since then it has received 86 applications, enrolled 25 people and paid out just over $1 million dollars in claims.
"This bill was rushed. It should have included coverage for cancer," said Barbara Geidel, expressing a view widely held by cancer stricken first responders and their families.
New research
A new study released Thursday by The Lancet medical journal examines the link between the incidence of cancer and exposure to 9/11 related substances, and seems to support her point.
It tracked 9,853 firefighters and found that those who were exposed to substances at Ground Zero are 19% more likely to develop cancer than firefighters who were not exposed.
Ralph Geidel, 54, retired from the FDNY in 1985 and moved to California to mine for gold. It was there that he met his wife Barbara. He returned to New York on Sept. 14, 2001, to rejoin his former unit Rescue Co. 1 and search for his brother Gary, also a firefighter who was in the World Trade Center on Sept. 11.
He's currently on a cross-country trip from California to Ground Zero on his Harley-Davidson, which is his way to honor his brother and find closure.
Ralph worked 36 straight hours when he first got to New York three days after 9/11, and then for months after that at Ground Zero.
Hounded by bill collectors
He has health insurance through the FDNY. But after his cancer diagnosis, he returned to California and was treated by specialists who were out of network and therefore not covered by his insurance.
That meant the Geidels had to pay much more out of pocket for Ralph's cancer treatments, including radiation and surgeries.
Although his doctors haven't clearly established the link between exposure to 9/11 toxins and his cancer, Barbara said one specialist did tell the couple that the toxins were probably what caused his type of cancer to show up at a much younger age than it typically does.
"His oncologist said this type of cancer is seen in a 60 -70 year old who's a heavy smoker and drinker," she said, adding that her husband was diagnosed at 44 and is neither a heavy drinker or smoker.
"Look, we're tired of begging for help. We're hounded by bill collectors. We're not asking for a handout. We're asking for a hand," said Barbara.
It's a different story for Chris Doran, 42, a first responder and former New York City police officer who called the Zadroga Act a huge relief.
In the 10 years since the terror attacks, Doran has suffered many sleepless nights thanks to his injuries and his medical bills.
But now, he says, "the government is paying for all of my therapy and medications."
Prior to the Zadroga Act, Doran was struggling to pay the steep out-of-pocket costs for treating post-traumatic stress disorder and a sinus condition so severe that it has required five sinus operations.
"I went there on Sept. 14 but I didn't last very long," said Doran. After 14 hours at Ground Zero, his blood pressure shot up and he couldn't breathe.
He didn't return to Ground Zero after that. Three years later, Doran retired from the New York Police Department, moved to Texas and hasn't worked since.
Fortunately, Doran continued to get health insurance through the NYPD. But because his income dropped substantially after retiring, he too struggled to pay his out-of-pocket medical costs.
"I was paying $7,000 a year for medications. I had to file for bankruptcy," he said. Doran has also attempted suicide twice.
Under the Zadroga Act, all of Doran's medical costs will be paid for by the government because his illnesses are approved for coverage by the fund.
The bill isn't perfect, said John Feal, a first responder who founded the first responder advocacy group Feal Good Foundation in 2005, but at least it's a start.
"When this bill passed, my first words were 'This is good,'" he said. "But I give it a six out of 10."
Feal hopes that an amendment is made to the Act soon to cover cancer, and the agency has said it will continue to review its policy on cancer coverage as new research and findings are released. Such a review is expected early to mid-2012.
"These first responders are heroic people who are financially devastated because of their illnesses," he said.