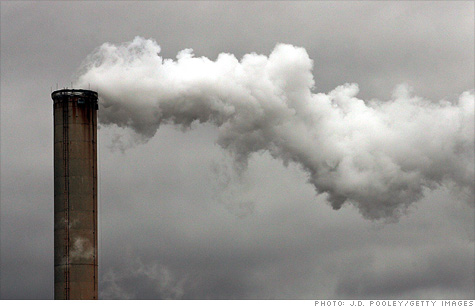 Industry says millions of jobs will be lost if the EPA enacts planned regulations. Others say this is just a scare tactic and should be ignored, especially when lives are at stake.
NEW YORK (CNNMoney) -- Despite easing off on one particular clean air regulation last week, there's every indication President Obama plans on tightening a half-dozen other environmental rules in the months ahead.
That has become a lightning rod for the business community and Republican lawmakers. With the economy on the brink of a second recession and job creation anemic, many say now is not the time to combat pollution. The regulations, they say, will result in factory closures and jobs losses just when the nation needs them least.
On the other side are supporters of stricter pollution controls, including environmental groups and public health advocates like the American Lung Association. And they say industry always cries "job losses" whenever it's told to clean up its act.
Those job losses are seldom as bad as feared, the advocates say, because cleaning up the environment actually creates jobs as companies buy and install pollution-control equipment. Plus, they say the benefits far outweigh the costs overall because fewer people need health care or call in sick to work.
However, this debate has been taking place nearly since Henry David Thoreau sat on the banks of Walden Pond, and no clear victor has ever emerged. Each side has numbers and studies to support its case.
A ratcheting up: What's clear is the regulations are getting stricter, and it's not entirely Obama's fault.
The Clean Air Act, first passed under President Nixon in 1970 and strengthened under the first President Bush, requires the Environmental Protection Agency to update pollution standards every five years. The science regarding how much pollution people can handle without getting sick gets better as time passes, the thinking goes, as does the technology available to clean things up.
The president has the power to stop the EPA, although that power is subject to court challenge. Congress can also stop the agency if it changes the law. But barring either of those events, the EPA has the authority to act on its own, and that's exactly what it's doing.
EPA scientists, having determined that air pollution is worse for people than previously thought and that improved technology to clean it now exists, have been urging stricter air-quality standards since at least 2004.
The administration of George W. Bush refused to implement those standards, which drew a court challenge from the environmental and public heath community. Those groups backed off when Obama took office and promised to tighten the rules. Now that he's also punting on one of them -- the smog standard -- those groups are bringing back the court challenges.
Several rules are in the process of getting tightened by the EPA.
They include one requiring industrial boilers -- the type used in factories, buildings or campuses to create heat or electricity -- to be much cleaner. They also include similar rules for utilities and cement plants, as well as a novel plan to regulate greenhouse gases.
At a paper mill: How these rules affect each industry varies greatly. Take a paper plant.
Under the new rules, many of the massive boilers in paper plants -- which can be several stories high -- would need to be completely reengineered to meet the new standards. The reengineering could include the addition or reconfiguration of pipes and valves, modifications to let the boilers burn a different type of fuel or the installation of additional filters on the smoke stacks.
The paper industry says this would cost billions. On Wednesday the industry said 36 mills across the country would become unprofitable if they had to make those modifications. Those mills would be shut, the industry said, taking with them 20,000 direct jobs -- 18% of the industry's workforce.
"This study reinforces the harmful job impacts of the boiler rules and the need to get the rules right," American Forest and Paper Association head Donna Harman said in a statement. "The regulations can and must be developed in a way that protects both jobs and the public health."
If the proposed smog rule would have gone through, 7.6 million jobs would have been lost by 2020, according to a letter dozens of industry groups sent to Obama last month.
Economy-wide, industry says millions more jobs will be lost if all of the EPA's actions are not stopped.
"When you elevate the costs so much, companies will either downsize or move elsewhere," said Ross Eisenberg, environmental and energy counsel for the U.S. Chamber of Commerce. "At what point do you push them to the point they can no longer operate."
This fear has led to a congressional backlash against the EPA, with House Republicans making it a top priority to rein in the agency.
"By pursuing a steady repeal of job-destroying regulations, we can help lift the cloud of uncertainty hanging over small and large employers alike, empowering them to hire more workers," House Majority Leader Eric Cantor said in a statement last week.
EPA to the rescue: But stopping the EPA won't be easy. The agency has plenty of supporters, including the president, at least for now. And their arguments are just as compelling as industry's.
For starters, they say industry is exaggerating on the jobs front, threatening massive losses when what businesses are really concerned about is smaller profits for themselves and diminished returns for shareholders.
According to a study from the Center for American Progress, regions of the country that were deemed to not meet acceptable levels of smog -- and hence subject to restrictions on development -- grew at a rate of 0.07% from 2004 to 2008. That compares with a rate of 0.87% for the country overall -- a difference the study said was not statistically significant.
Moreover, unemployment in the areas subject to restrictions actually rose by a smaller amount -- 2.21% versus 2.3%.
"The data shows that the fear of drastic economic harm due to a stronger standard is unwarranted," the study said, "despite industries' fevered predictions."
Supporters also say that while some jobs may be lost as older, dirtier factories shut, other jobs will be created.
"Companies don't just burn this money," said Daniel Weiss, director of climate strategy at the Center for American Progress. "They buy equipment, pay someone to install it, pay someone to run it. That creates jobs."
According to a study from the University of Massachusetts, requiring coal utilities to run cleaner would actually create 1.5 million new jobs each year for five years after the regulation took effect.
Then there's the public health benefits.
By not enforcing the new smog standard, 4,000 Americans will die each year, the Natural Resources Defense Council said in a statement.
If the EPA is prevented from going forward with its other actions, 17,000 Americans will die prematurely, 11,000 people would have heart attacks and 120,000 children would experience asthma attacks every year.
"These aren't theoretical injuries or ideological blows," NRDC President Frances Beinecke wrote in a blog post last week. "These are people's lives turned upside down."
Which argument Washington finds most compelling will become clear over the next few months.