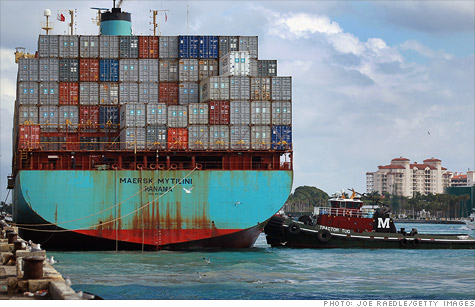 NEW YORK (CNNMoney) -- The gap between U.S. exports and imports narrowed in July to $44.8 billion, according to a government report, which was much better than the $51.1 billion expected.
The number is down from a $51.6 billion trade deficit in June, the Commerce Department said.
A narrower trade gap strengthens U.S. economic growth, so economists usually see it as a welcome sign for the recovery.
July exports totaled $178 billion, an increase of $6.2 billion from the prior month. But imports slipped $500 million, totaling $222.8 billion and resulting in the deficit.
The jump in exports reflected an increase in industrial supplies and materials, capital goods, and automotive vehicles, parts and engines, the government said.