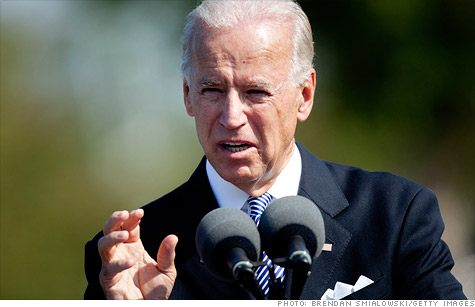 Vice President Biden is leading an effort to cut waste and fraud at federal agencies.
WASHINGTON (CNNMoney) -- The Obama administration said Wednesday it was cracking down on waste and fraud in Medicaid and unemployment, in an effort that should save taxpayers billions of dollars.
The White House initiative comes on the heels of news that the Department of Labor tallied $19 billion in wrongful payments of unemployment insurance over the past three years.
The eye-popping level of improper payments puts pressure on the Obama Administration as they push to extend certain stimulus programs, including unemployment benefits.
The Department of Labor says it's focusing on six states where fraud in unemployment benefits is particularly bad: Virginia, Indiana, Colorado, Washington, Louisiana, and Arizona. Improper payments of unemployment benefits have run as high as 43% of dollars distributed in Louisiana and Indiana.
Those six states will have to undergo stricter reviews until they can get their error rate below 10% of dollars doled out for six months straight, according to the Department of Labor.
The Department of Labor also announced Wednesday that it was awarding $192 million to 42 states to crack down on waste and improve accuracy in the unemployment insurance program. Some states will use the money to upgrade their computer systems that track data and process claims.
"These new measures demonstrate our commitment to working closely with states to ensure the integrity of the system, turnaround underperforming programs and save taxpayer dollars," said Labor Secretary Hilda Solis in a statement.
But Republicans say the administration has a long way to go before it can declare success in fighting waste and fraud at agencies.
"For every big-picture undertaking like this, you get a headline about things like the State Department's spending emergency funds on table linens and a kitchen renovation," said Sen. Charles Grassley, an Iowa Republican. "Getting results requires getting in the weeds and a lot of oversight to enforce change. It's rare to see the necessary kind of follow-through after the headlines die down."
The White House's new push to crack down on waste and fraud could deliver savings at Health and Human Services, which plans to use a special audit program to root out waste and fraud in Medicaid. Agency auditors say they expect to recover $2.1 billion over five years.
The new Medicaid audit program replicates a fee-for-service auditing program in Medicare, in which private contractors who recover dollars from overpayments or improper payments get to keep 10% of the dollars recovered.
Since Medicaid is a state-federal partnership, with the states paying 45% of the costs, roughly $900 million from the $2.1 billion could be returned to cash-strapped states.
This year, the existing auditing program over at Medicare recovered $670 million from overpayments or fraudulent payments, according to the White House.
"If we're going to spur jobs and economic growth and restore long-term fiscal solvency, we need to make sure hard-earned tax dollars don't go to waste," Vice President Joe Biden said in a statement.