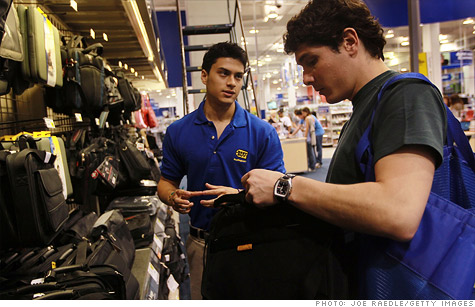 Best Buy said it will hire 15,000 "blue shirts" and 3,000 other workers ahead of the holidays, but that's fewer than last year.
NEW YORK (CNNMoney) -- Best Buy announced Wednesday that it's only a fraction of the holiday workers that it took on last year.
Electronics retailer Best Buy (BBY, Fortune 500) said it will add 15,000 seasonal "associates" ahead of the holidays.
The company also said its phone support and distribution centers will hire more than 3,000 employees "to provide customer support and manage inventory for our stores and .com channel."
That's compared to last year, when Best Buy announced the hiring of 29,000 seasonal employees, a tally that had remained more or less constant for several years.
That hiring boom pales compared to Macy's (M, Fortune 500), the department store chain that announced on Monday that it will add 78,000 holiday jobs.
And on Sept. 22, Toys "R" Us said it was hiring more than 40,000 workers nationwide for the holiday shopping season.
Americans are paying close attention to these holiday hiring surges, considering the depressing state of the U.S. job market.
The unemployment rate is currently at 9.1%. The most recent monthly payrolls report said that no jobs were created in August.
About 14 million Americans remain unemployed and 42.9% of them have been out of work for more than six months, according to government statistics.