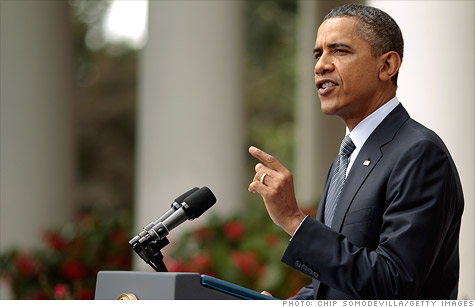 President Obama wants trade deals with Colombia, Panama and South Korea. But political gridlock may claim the deals as its latest casualty.
WASHINGTON (CNNMoney) -- Trade deals with Colombia, South Korea and Panama have the potential to be a slam dunk in Congress -- but they may never make it that far.
The U.S. agriculture industry has been calling for the deals, which could open up new international markets for high-quality beef, wheat and soybeans. But the U.S. auto industry is also watching, as the deal with South Korea would mean tariffs aimed squarely at Detroit automakers would decline.
Republicans in both chambers have been calling for them. A few Democrats are expected to support them. And President Obama said in his speech to a joint session of Congress earlier this month "it's time to clear the way" for the deals allowing "American companies to sell their products in Panama, Colombia and South Korea."
But the White House has yet to send the deals to Congress. The Obama administration said earlier this year it first wanted to Congress to deliver new funding for a jobs retraining program called Trade Adjustment Assistance, which helps workers whose employers have moved jobs overseas.
Last week, the Senate passed the Trade Adjustment Assistance program, which would cost $900 million over three years.
The holdup? House Republicans want to approve all three trade deals and the Trade Adjustment Assistance program together. And some Republicans say the federal government doesn't have the money to spend on retraining workers, so passage in that chamber is uncertain.
The White House wants the Trade Adjustment Assistance program passed before sending over the trade deals.
And despite both sides pledging progress toward getting the trade deals done, no solution has appeared yet.
An administration official called the Senate's passage an "important step," toward the pending trade agreements.
"Discussions continue with congressional leadership on how these bills will move through the legislative process," the official added.
In the meantime, Senate Republicans have blocked White House nominations to run the Commerce Department and other trade posts until the trade deals are approved. That has left Obama's pick for Secretary of Commerce, former energy executive John Bryson, as well as several others in limbo.
On Wednesday, the Obama nominee to be second-in-command at Commerce, Terry Garcia of the National Geographic Society, withdrew his nomination in frustration.
Top Democrats such as Senate Majority Leader Harry Reid and House Minority Leader Nancy Pelosi have said they're no big fans of the deals. But other Democrats such as Sen. Max Baucus of Montana have been pushing for them.
Union groups say there's no proof linking trade deals to job growth. And they say the deals don't do enough to protect workers' rights in those nations.
But business groups from the U.S. Chamber of Commerce to the Business Roundtable have ranked passage of those trade pacts among their top recommendations to spur job growth.
"For America's small and medium-sized businesses, these agreements are critical," Myron Brilliant, the U.S. Chamber of Commerce senior vice president for international policy, said last week. "Approval of the pending trade agreements will boost their sales and allow many more companies to tap these growing markets."