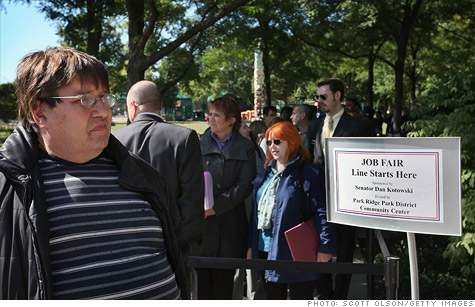 NEW YORK (CNNMoney) -- The number of Americans filing for their first week of unemployment benefits fell last week to the lowest level in nearly six months, possibly signaling slight improvement in the job market.
There were 391,000 initial unemployment claims filed in the week ended Sept. 24, the Labor Department said Thursday, down 37,000 from the prior week's revised 428,000.
The drop was much better than expected, as economists forecast initial claims to fall to 419,000, according to Briefing.com.
New claims for unemployment benefits have stuck around or above 400,000 since early April, a level economists often say is too high to signal the unemployment rate will come down anytime soon.
The recent drop to 391,000 maked the lowest level since the week of April 2, when 385,000 new claims came in.
Still, economists cautioned against getting too excited about the better number. It's just one week of data, and according to a government spokesman, seasonal adjustments could have impacted the calculation.
"As much as I would love to cheer on this result, it is only one week and we all know how volatile this series is," Jennifer Lee, senior economist with BMO Capital Markets said in a note to clients.
For the country overall, the unemployment rate is still at 9.1%. (Check the unemployment rate in your state.)
Continuing claims -- which include people filing for the second week or more of benefits -- decreased by 20,000 to 3,729,000 in the week ended Sept. 17, the most recent data available.
That figure only includes people who are receiving benefits though, which typically run out after 99 weeks.
Including people who aren't currently receiving those benefits, about 14 million people remain unemployed in the United States.
Ironically, there are still 3 million jobs going unfilled, a problem that some employers say is due to American workers not having the right skills.
Read about 9 of these hard-to-fill jobs.